In the Garden of the White Rose
Posted by Elizabeth Elean... on March 19, 2018 |
Hello, again, friends! Welcome back to my blog.
Where last I left off, I was sharing my experiences with the art museums of Paris. It was a truly unforgettable vacation. In addition to art musuems, we spent a lot of time in gardens in and around Paris, a day trip out to Versailles, and then off to magical Mont St. Michel, the Normandy coast, and finally down into the Loire Valley to visit some of the magnificent chateaus. We studied so many different periods of history, from the Norman invasion of England in 1066, to World War II, the Lost Generation writers of Paris in the 1920's, and the reign of Francois the First. While the amount of information we took in was almost overwhelming, it really gave me so much inspiration for artwork of all kinds once we returned in September.
There were so many things that stood out to me, and I am sure the trip will continue to inspire paintings for me for many years to come. But two experiences in particular helped spark my imagination and create the series I am currently working on, entitled The Garden of the White Rose. I thought I would share these experiences here.
On my second day in Paris, Geoff and I went to see the catacombs. I was really looking forward to this, as I missed this opportunity the first time I had visited the city back in 2010. Walking through the cool, dark, winding underground paths of the dead was a somber yet beautiful experience. It was quiet. It was creepy. But it was also exquisite and quite peaceful. I took a lot of pictures to use as studies for my artwork. I was touched by the delicate and almost loving way these bones were used to build this unique piece of art. I was captivated by the way the shadows danced down the winding halls and the sheer volume of individuals lying within. It was really a gothic paradise. My favorite part of this experience was learning, via our audio guide, that at some point in the 19th century, an orchestra had descended into the catacombs to give a live concert. Among the pieces they played were Chopin's Piano Sonata No.2 (known as his funeral march), and Beethoven's Symphony No. 3, which happens to be my favorite piece of classical music of all time. I would have loved to have been in attendance!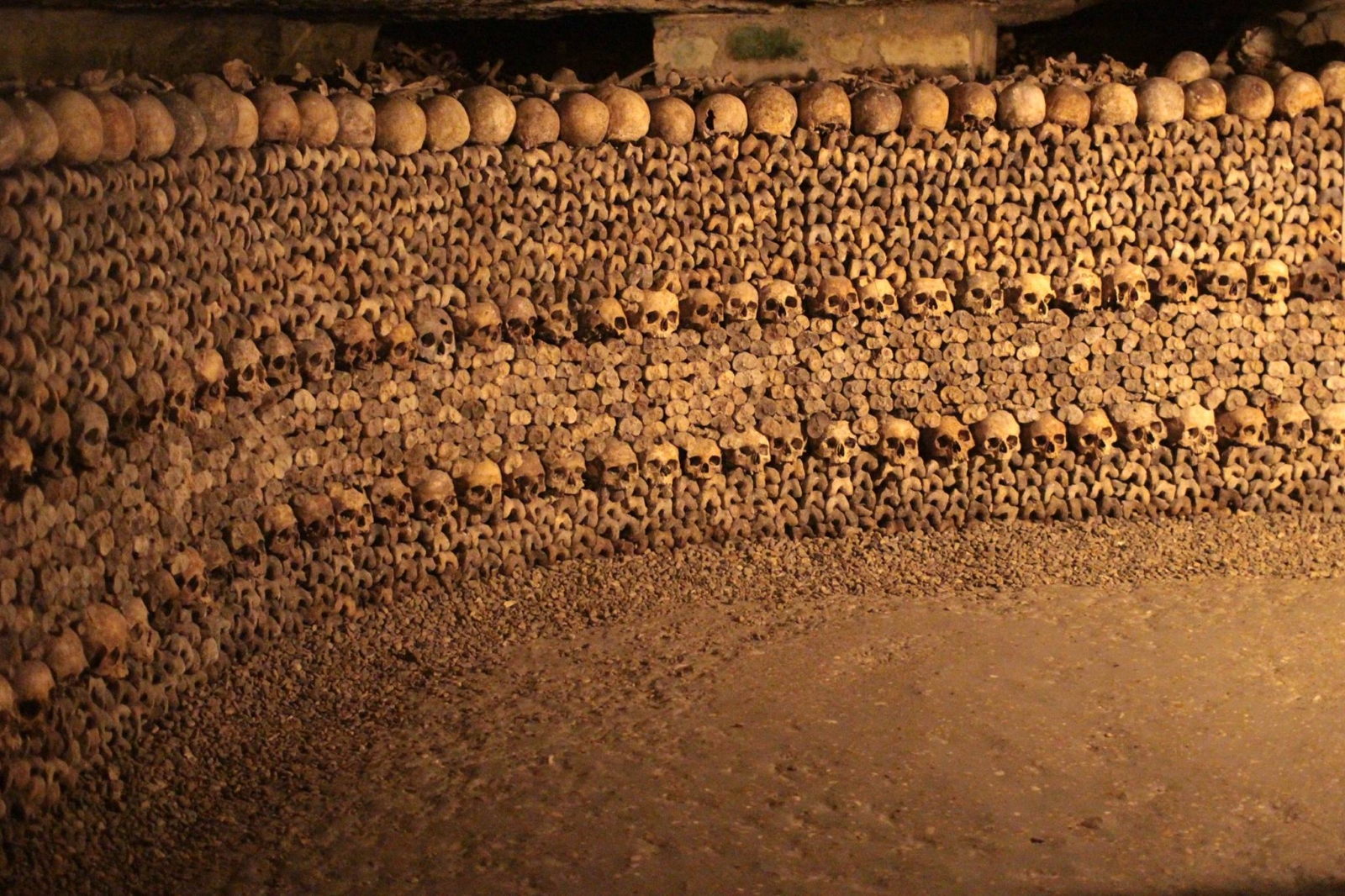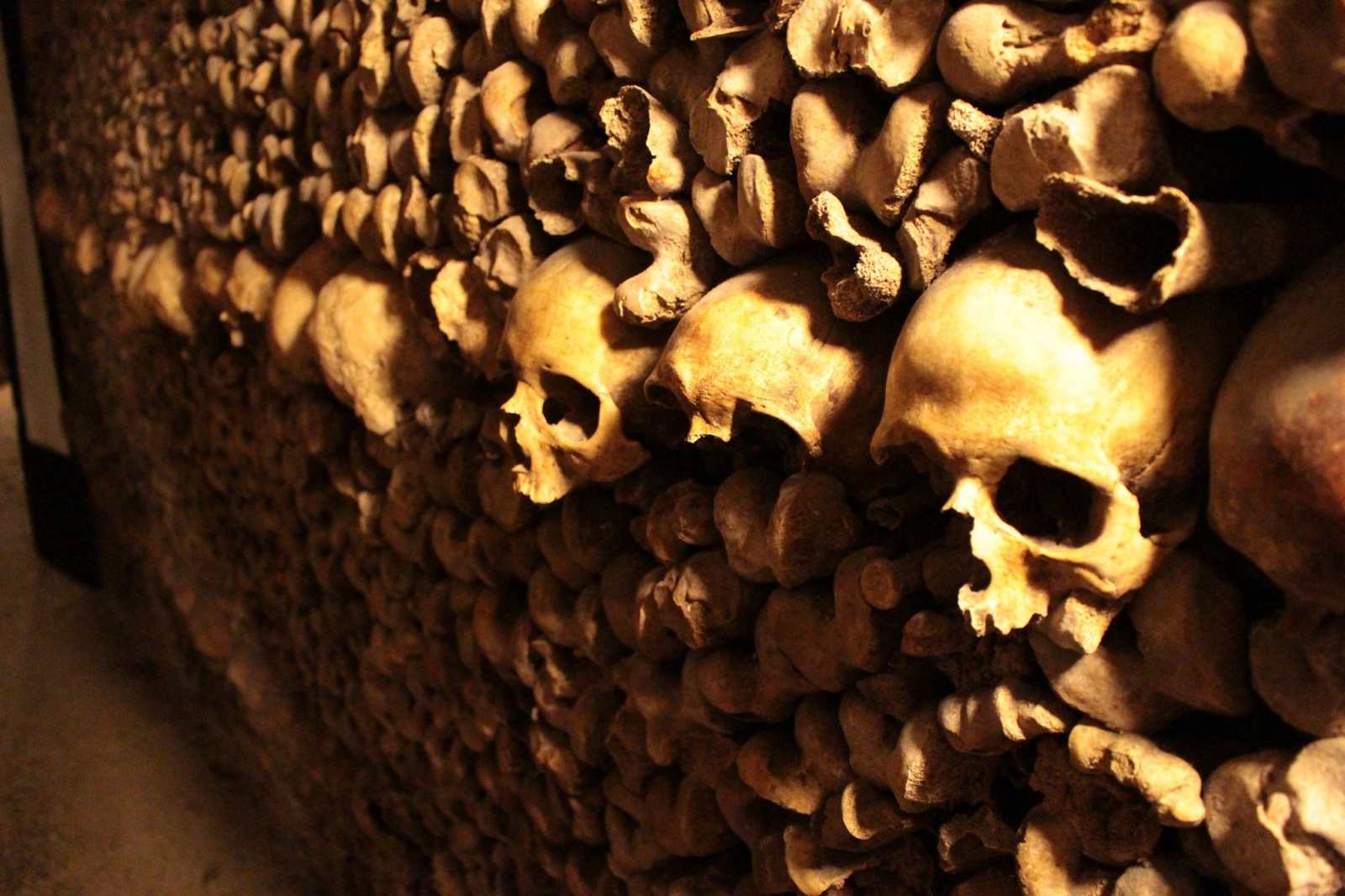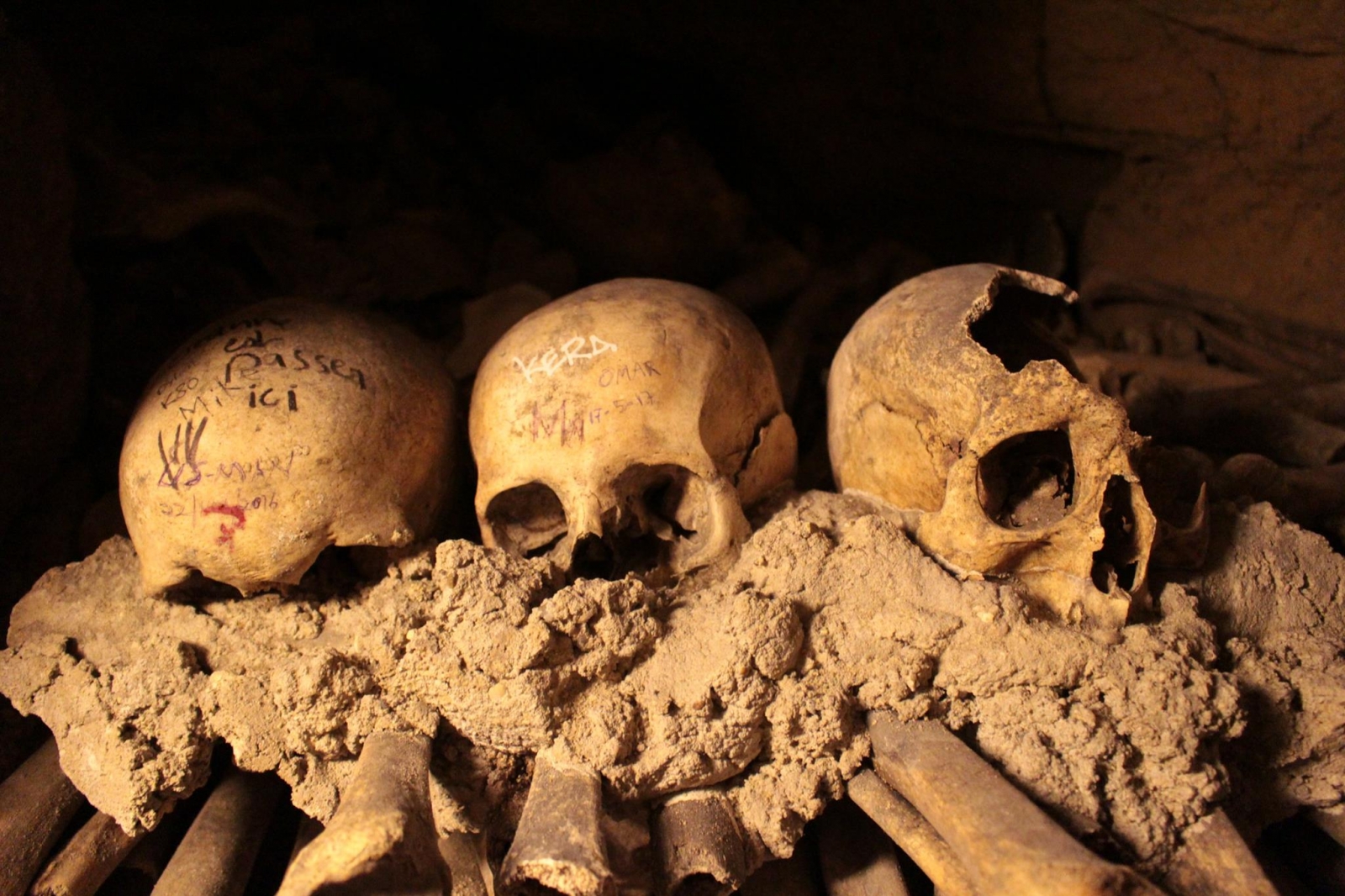 The other source of inspiration that I brought back from this trip for my series of paintings are all of the absolutely exquisite gardens that are both peppered around the city of Paris and enveloping the grand palaces and chateaus throughout France.
I am simply a sucker for gardens. Sure, I really enjoy the gothy macabre of skulls and bones and all things "dark" like the catacombs, but a pretty garden really is my slice of heaven on earth. France had no short supply of incredible blooms, fruit trees, statuaries, fountains, and massive expanses of precisely kept grounds to wonder through.
I was in awe of Versailles' Hall of Mirrors. That was a bucket list item for me. But the crushing throngs of visitors, getting pushed around, stepped on, cut in front of, and shuffled along from room to room was draining. It was a beast of an experience to get through, honestly. Fortunately, the crowds dispersed in the expansive gardens, and we were able to spend most of our day exploring these beautiful sights.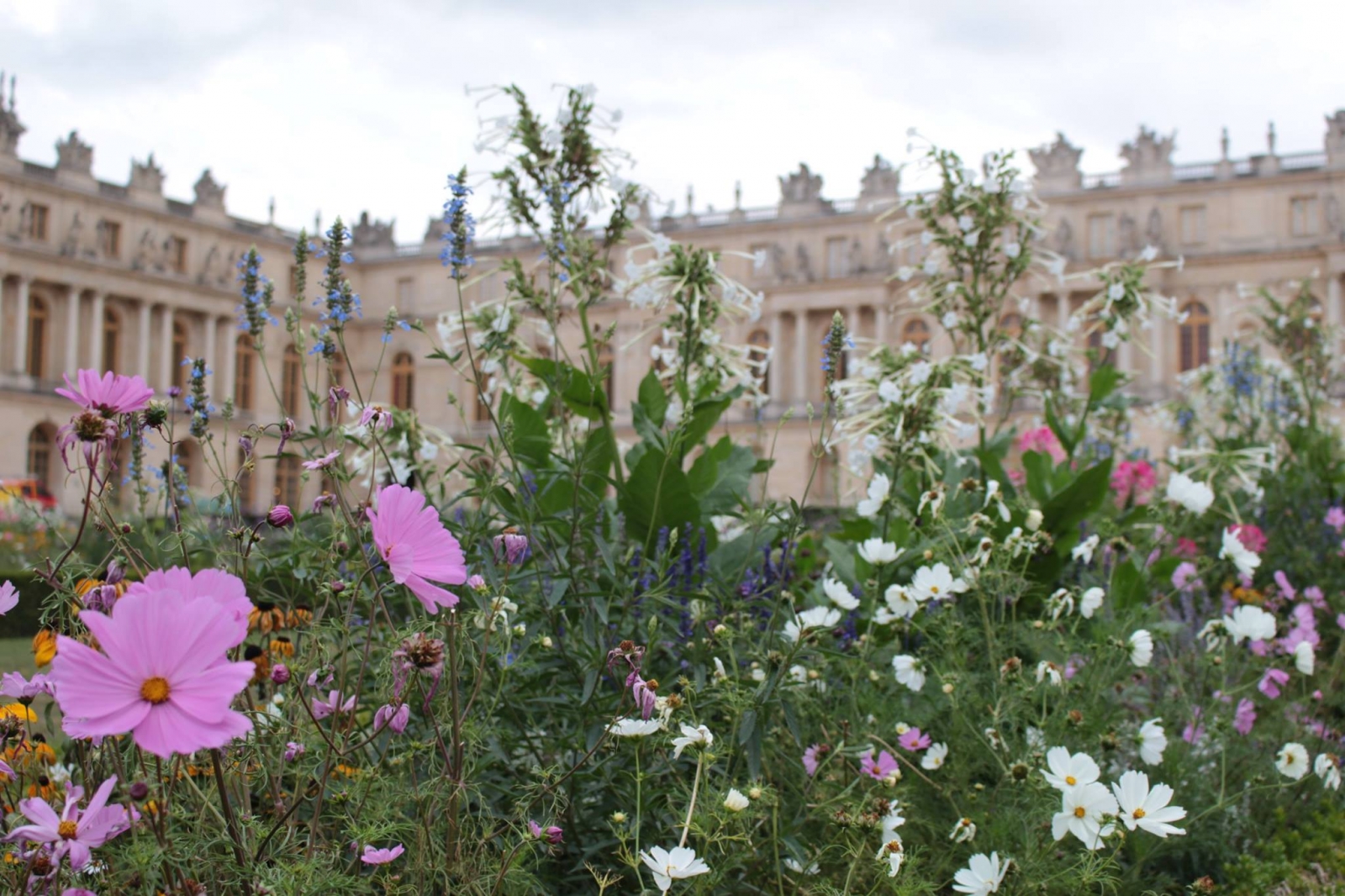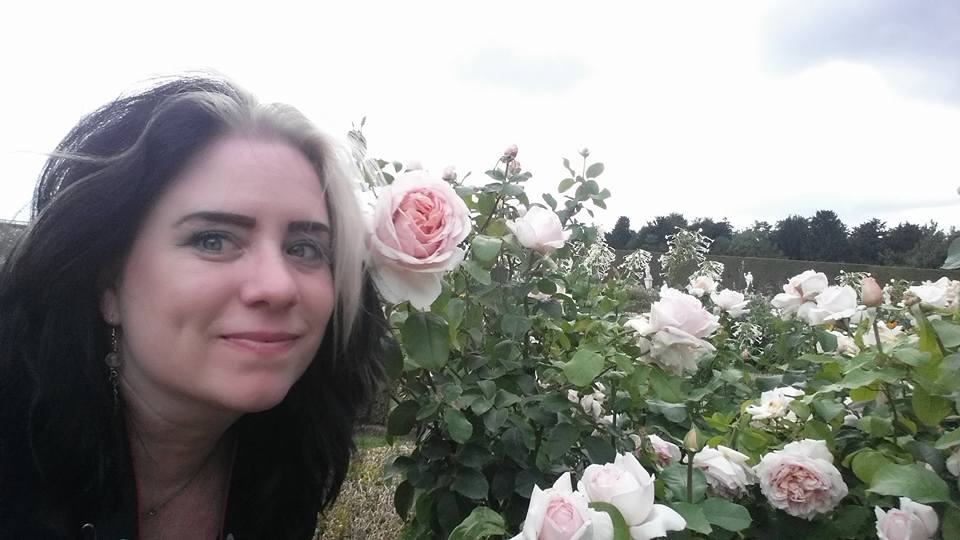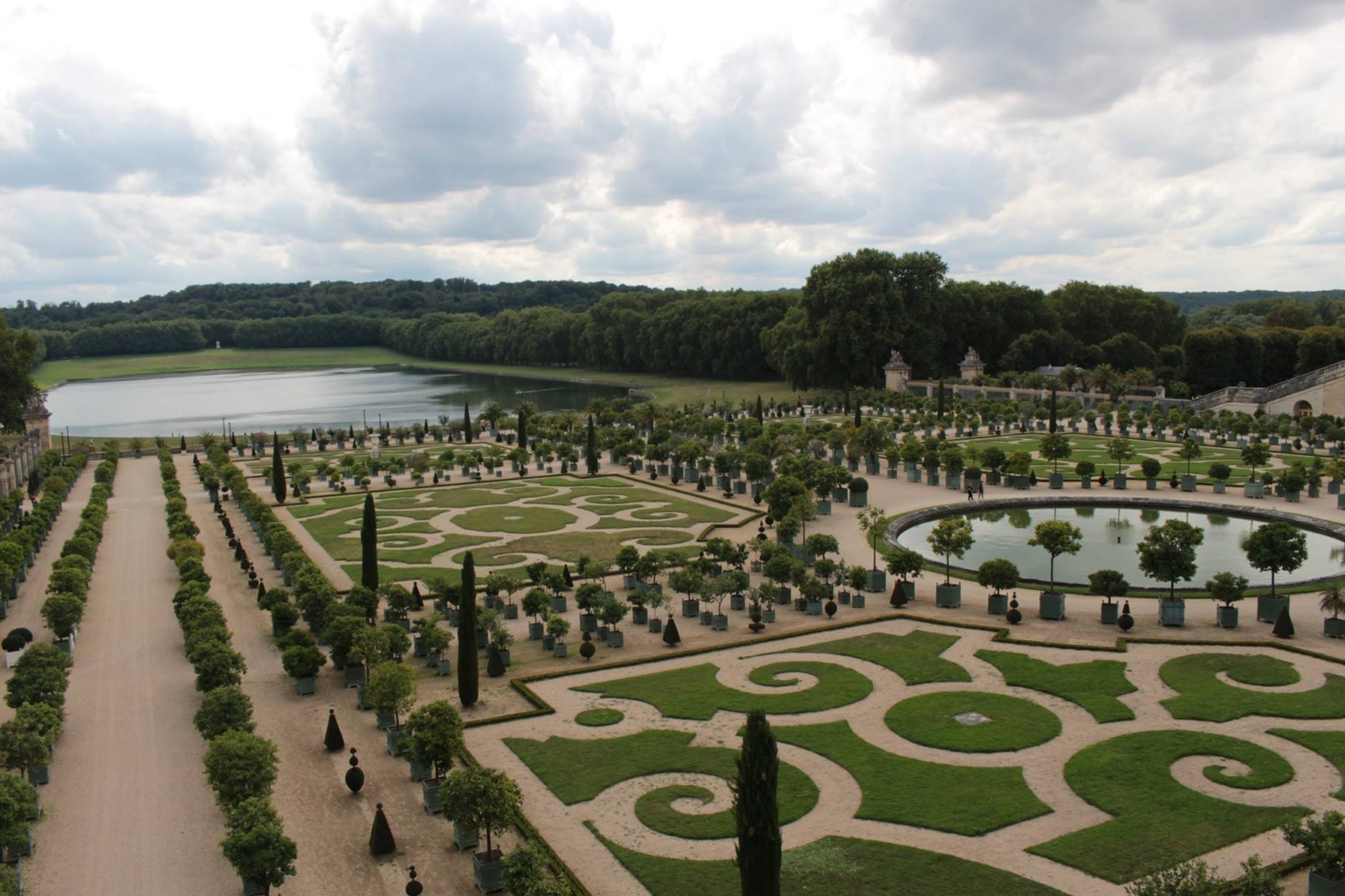 Another highlight was the breathtaking Medici Fountain in the Jardin du Luxembourg, nestled among the busy streets of Paris. If I were a local living in this wonderful city, I am unsure how I could resist visiting this fountain every single day.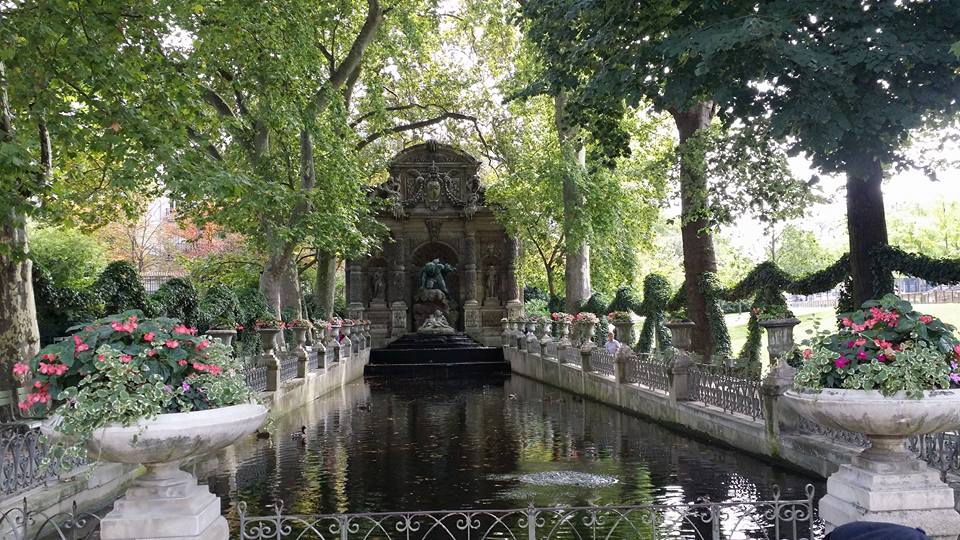 On the last leg of our trip, we traveled to the Loire Valley, where we toured what is sometimes referred to as "The Three C's", Chateaus Chambord, Cheverny, and Chenonceau. These pleasure palaces each had their own unqiue flavor and appeal, but they all had one thing in common; their amazing gardens.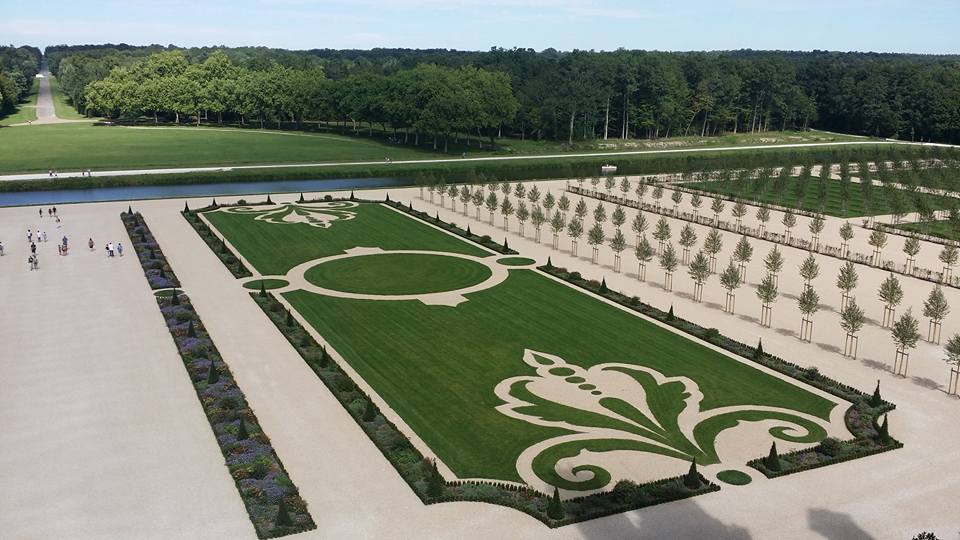 (pristinely manacured gardens at Chambord)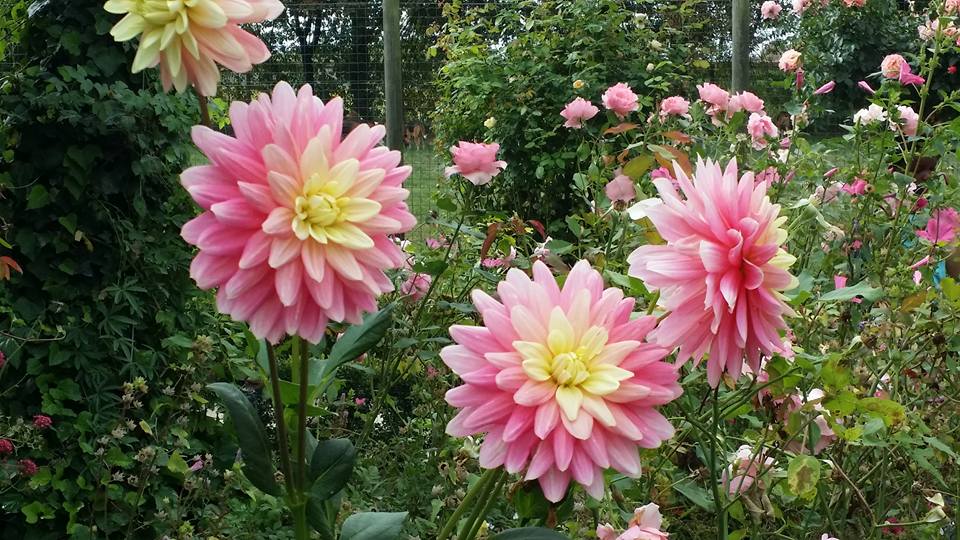 (gigantic dahlias in the gardens of Chiverny)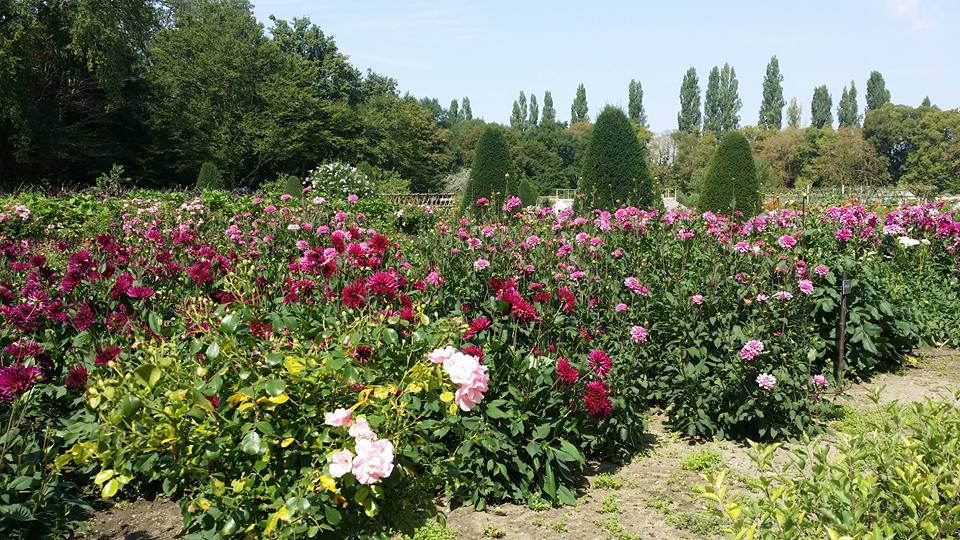 (blooms as far as the eye can see at Chenonceau)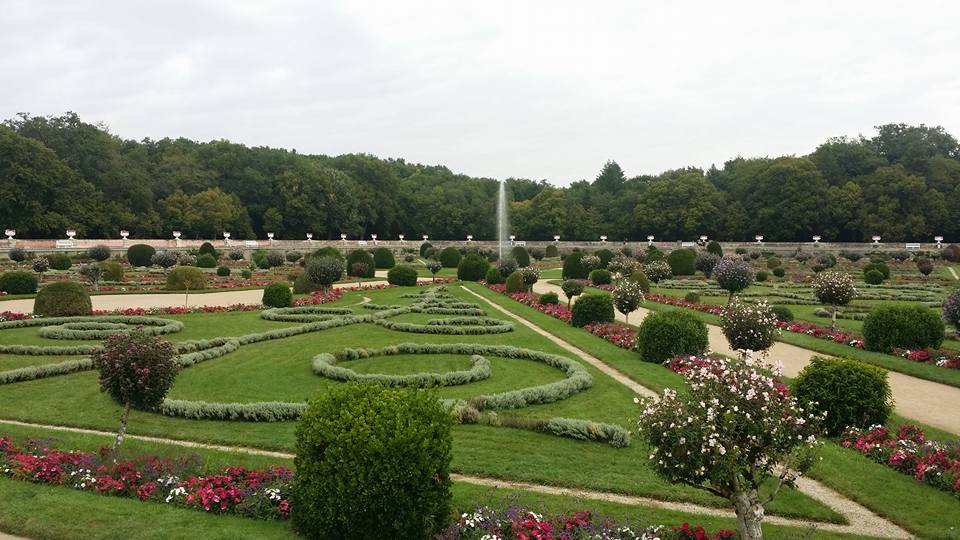 (the manacured lawns of Chenonceau)
If I was forced to choose a favorite from "The Three C's", it would be a tough choice. I loved the strange architectural enigma that was Chambord, not to mention the story of Francois I. But Chenonceau, known as "The Lady Chateau" really stole my heart. History is filled with the stories and castles of men. It was interesting and refreshing to see a fairytale-eque landmark that was designed and ran by women.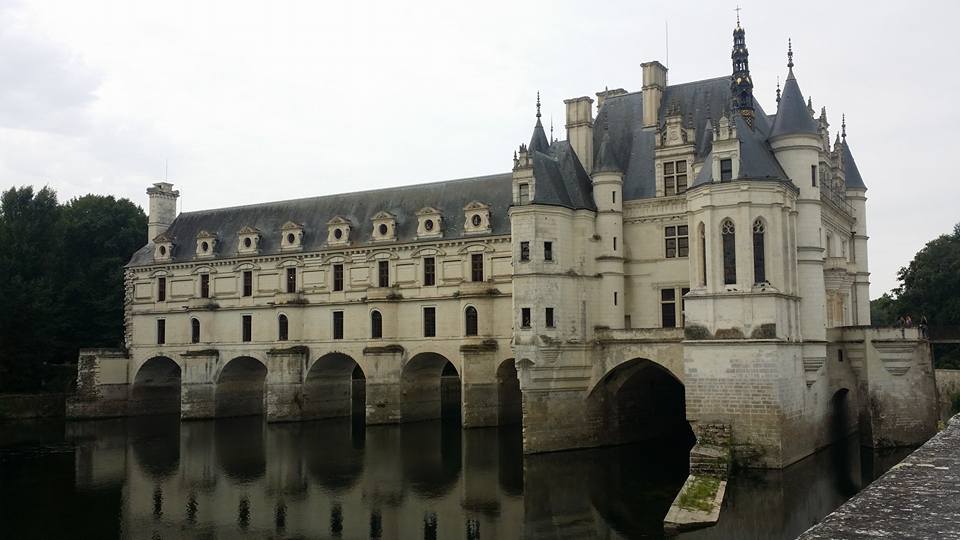 Once our adventure was over, along with my personal belongings, souvenirs, and French perfume, I packed up these feelings, thoughts, and experiences and brought them back home to churn in my imagination. I began to think how I would share and express the beautiful sites I had experienced, the art I had studied, and the emotions all of it left me with. There was a figure that kept emerging from the cloudiness of my swirling thoughts. She was powerful. She was mystical. She was ethereal and known to the world, yet still something of a mystery. She was benevolent to animals, the bringer of life and sharer of magic, yet she could be dark and somewhat macabre as well. She was statuesque and serene, but not to be toyed with. She had power over all in her magical realm.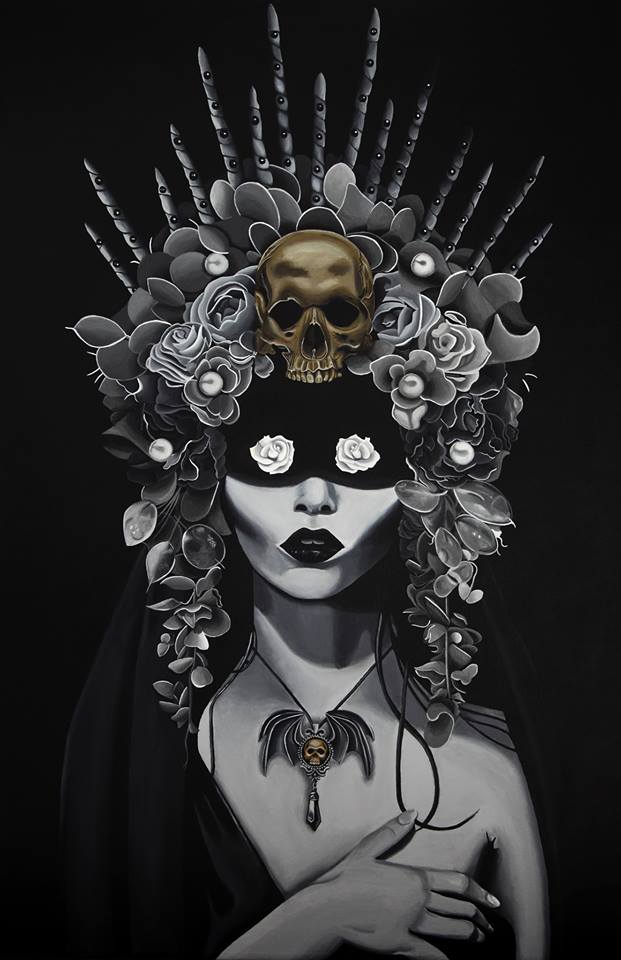 (The Lady of the White Rose, Acrylic on Canvas, painted 2018 by Elizabeth Eleanor Davis)
Once I had my figure, my centerpiece, I asked myself. "Where does this spirit live? Where does she call home." The answer came almost at once. She lived in her enchanted garden, of course, presiding over all that grows there with the power of life and death. No one is quite sure how long she has been there, or where she derives her power, but it is thought that it has something to do with the magical white roses that grow within its borders.
Then I began to picture what would inhabit her garden, and when would this magical place truly come to life? This was when my imagination began to really have fun. Even though the gardens I saw in France were full of amazing color in the day time, I began to picture my garden, or rather, HER garden, in the moonlight. Afterall, is there a more magical hour than midnight? It was in her enchanted darkness that the place really begins to breathe and her friends come out to play.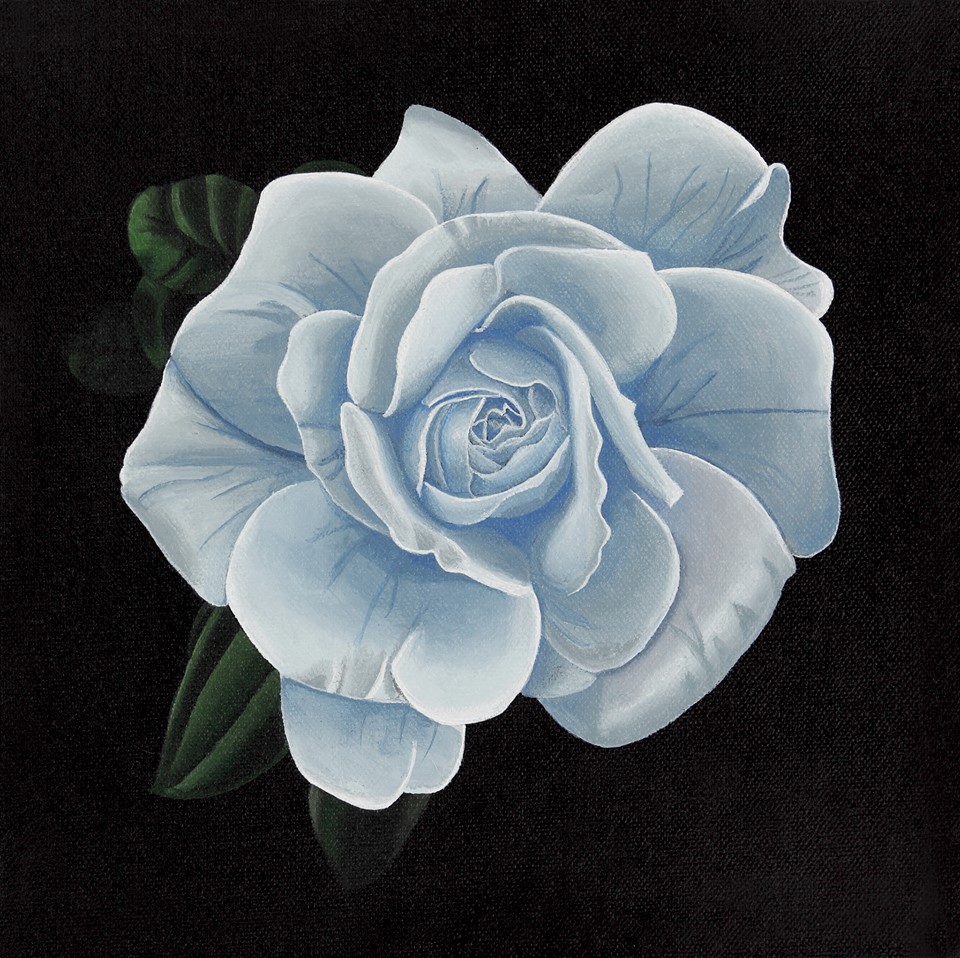 (Moonlight Rose, Acrylic on Canvas, painted 2018 by Elizabeth Eleanor Davis)
The Lady of the White Rose may not enjoy the company of other people, but she does enjoy the company of her animal friends. Beings both earth bound as well as those straight out of myth suddenly appear in her garden in the small hours of the morning to enjoy the elysium she provides for them. From enchanted, glowing butterflies to bats, cats, and her faithful steed, her garden teems with heartbeats and wonder underneath the moon.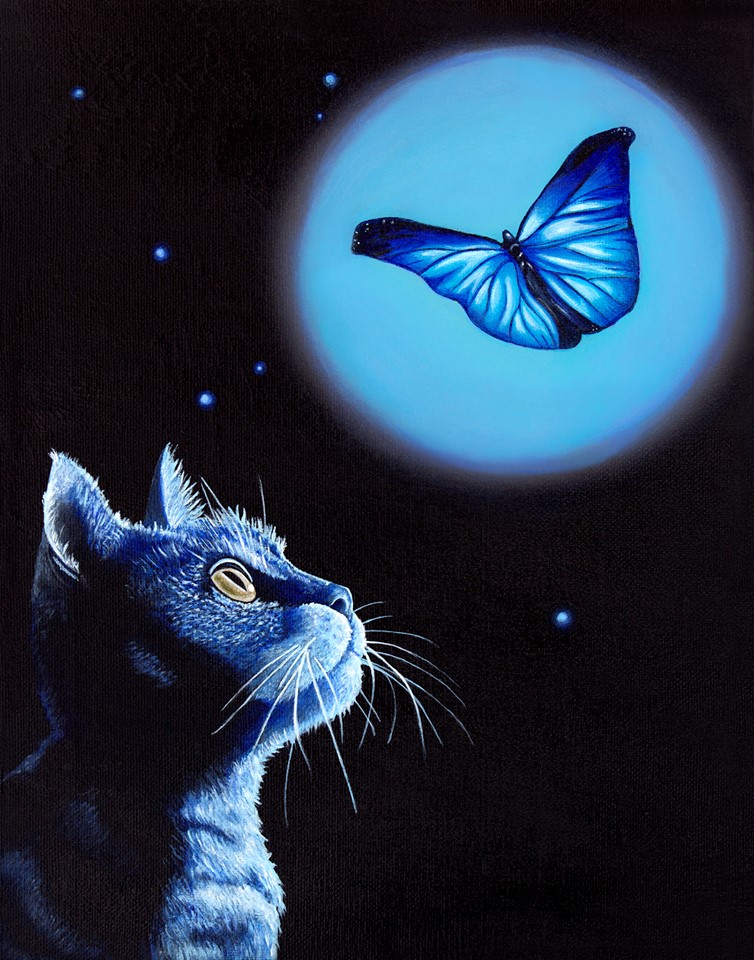 (Midnight Magic, Acrylic on Canvas, painted 2018 by Elizabeth Eleanor Davis)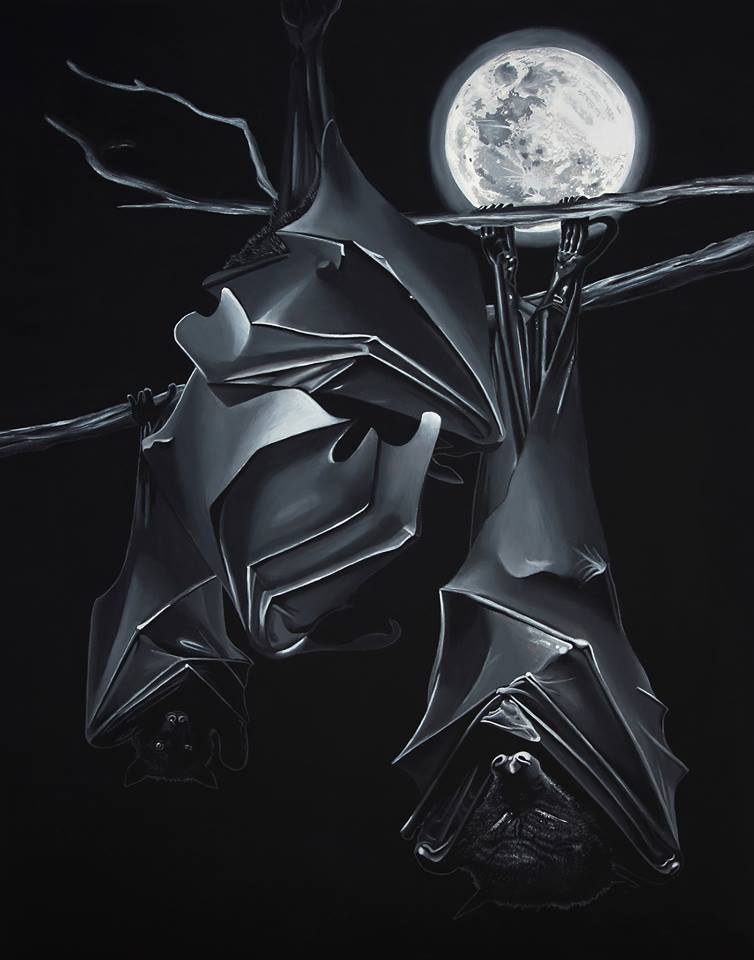 (Midnight in the Garden, Acrylic on Canvas, painted 2018 by Elizabeth Eleanor Davis)
I have had so much fun pulling together this series of paintings. I have four pieces completed so far, another on its way to completion, and another three in the works. When completed, it will be the largest series I have ever attempted. My goal is to open a solo exhibition show somewhere in Central Florida, where I can show all of the pieces together and share them with my friends.
Vacations are a fun thing to take. I feel very fortunate that I have been able to travel through my adult life. At times it is difficult to save the money to go away. It might feel like an exhorbitant luxury to some. But for me, it's not just about site seeing and being a "trendy" jetsetter. Its about learning all that I can from different places, studying history, and finding inspiration that I can harness for use in my artwork. It is incredibly important to me to be able to continue doing this. It recharges my mind and my soul, and gets my imagination going in ways I never really expect!
If you are interested in any of the pieces from In the Garden of the White Rose, prints are now available in the shop. I'll continue to post about the series and once it is finished, I will hopefully have some news about an exhibition. Thank you for reading! i'll see you again soon!