Wedding Day!
Posted by Elizabeth Elean... on January 02, 2019 |
1 Comment
It has been a while since I have been able to carve out some time to add to the blog. But there have been a few good reasons for my absence! The end of 2018 was a complete whirlwind for me, with my first solo art opening, some major home renovations getting started, and....also....I got married! Though the wedding is not exactly art related, I thought I would share the experience with all of you because it truly was a magical and lovely day.
Geoff and I had some very particular ideas about the look and feel of our nuptials. We really didn't want to go overboard, or put anyone out, or make everything super difficult and expensive. We didn't want a HUGE fuss, but we wanted it to be nice. We also wanted it to be a little spooky. We are goths, afterall. But riding the fine line between dark and elegant versus campy and Halloweeny proved very challenging! We were going for more of a dark tea party over rubber bats and felt top hats if that makes any sense.
Regardless of the fact that we were going small, simple, and intimate, planning was still stressful at times. My biggest fear was in picking a dj. I will just be honest here...I HATE wedding djs. Like, they are on my list of the top ten things I hate in life overall. I don't like the campy "Weeeeeelcoooome to the stage right nowwwww" or "PUT YOUR HANDS TOGETHER FOR...". It seriously grates on my last nerve. We are also decidely NOT top 40 music listeners. No offense to any of you out there that are. Geoff and I are deeply into our music. We met while out dancing. Concert going, dancing, and home music curation are serious pastimes of ours. It was important that we set the right tone with our music while also not alienating our guests. The thought of hiring a dj was actually giving me episodes of anxiety. Thankfully we found a great guy, MK, with Junktion 88 Productions. He seemed to really get what we were going for, and we were able to supply him with a personally curated playlist. Geoff and I spent months curating the playlist, and we had a lot of fun doing so. There were many late nights discussing it, picking out songs we had not heard in ages, as well as finding some great new bands along the way. We snuck in little waves of goth and spook, and tossed in some 80s hits that seemed to go over well enough. It wasn't perfect, but we felt overall it was mission accomplished.
I also really, REALLY wanted to find a black dress. I know, I know. But I wear black everyday. It seemed weird to break the tradition. Seeing myself in white after many many years of not wearing it was so strange! Unfortunately, at least in the city of Orlando, I couldn't seem to find a black dress worthy of the occasion! I had a very hard time with the dress as it was if I am honest. I suppose I am glad I found anything. Bridal shopping could easily have its own blog, so I will just sum it up and say...I am ok with the dress, but I am glad I never have to shop for one ever again!
Once these stresses were taken care of, and all the planning was locked in place, things got a tad easier. Before we knew it the day had arrived. We headed over to the historic Capen House in Winter Park, FL, which adjoins the Polasek Sculpture Gardens. Its a great little musuem. If you are local you may want to give it a visit!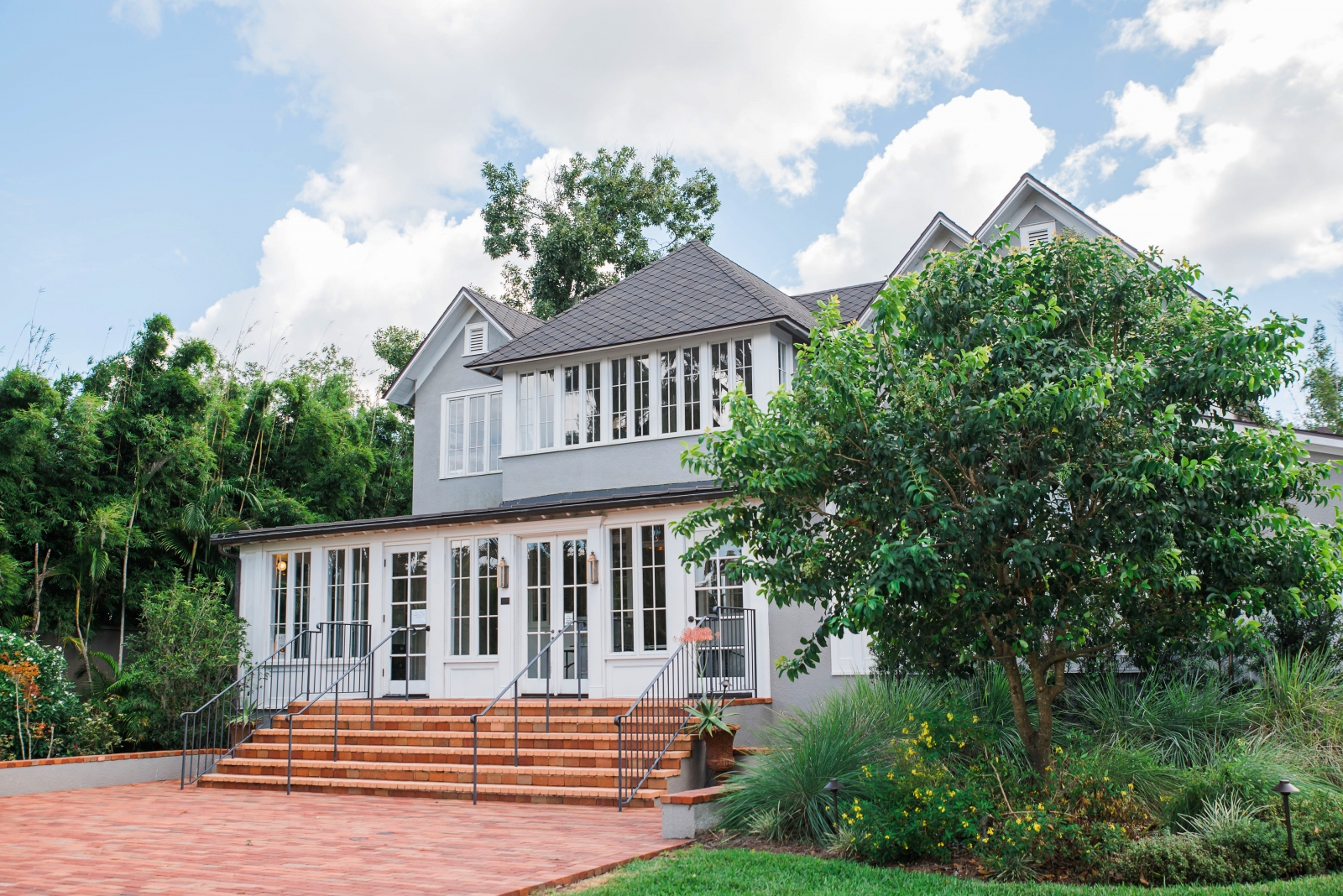 The wedding was pretty much DIY from soup to nuts. We had no planner and no bridal party. Again, I wanted to keep things really simple. This cut out a lot of the planning and shopping and extra costs, but did leave a lot for Geoff and I to do ourselves. We have been so blessed to have a great circle of intimate friends. Day of, they all showed up early to lend a hand in setting up, which blew us both away! They set tables, helped me into my dress, set up chairs and water bottles (did I mention it is Florida, so even at the end of September it was 90 degrees!) I don't know how I can ever thank them for all the assitance they gave us that day. It truly meant the world to us.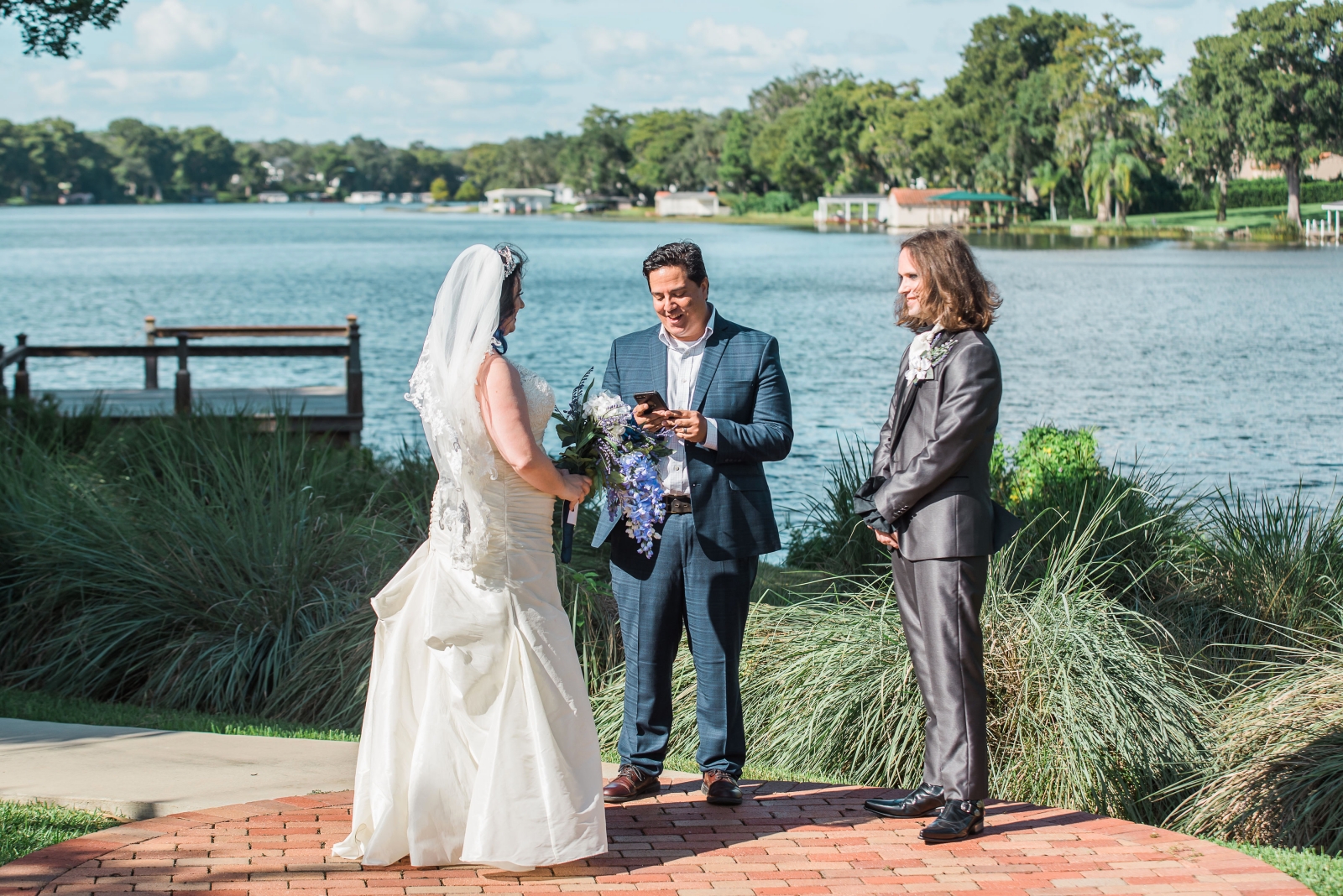 When Geoff proposed, one of his conditions for the wedding was that we had our dear friend, Luis marry us. That was no problem with me! We have known Lou for many years. Not only is he a dear friend, but he has a unique charm and spark of personality. He is warm, kind, funny, and has a way with a word or a phrase that just gives you the warm and fuzzies. I honestly could not think of anyone more perfect for the job. To our luck, he accepted, and made the ceremony fun, sweet, simple and sincere.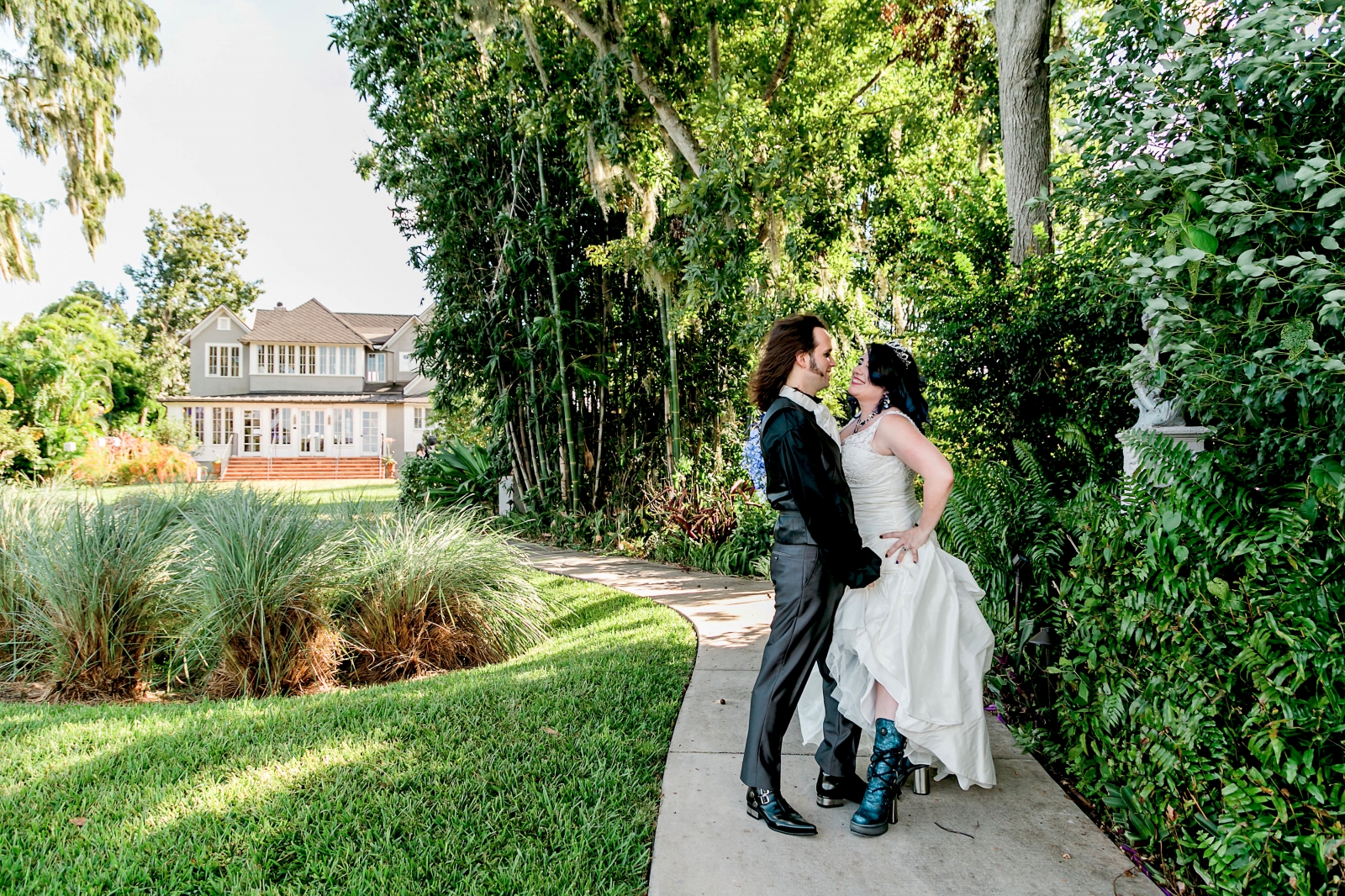 (one of my favorite goth touches we added were the wedding presents Geoff and I gave to one another...epic goth boots!)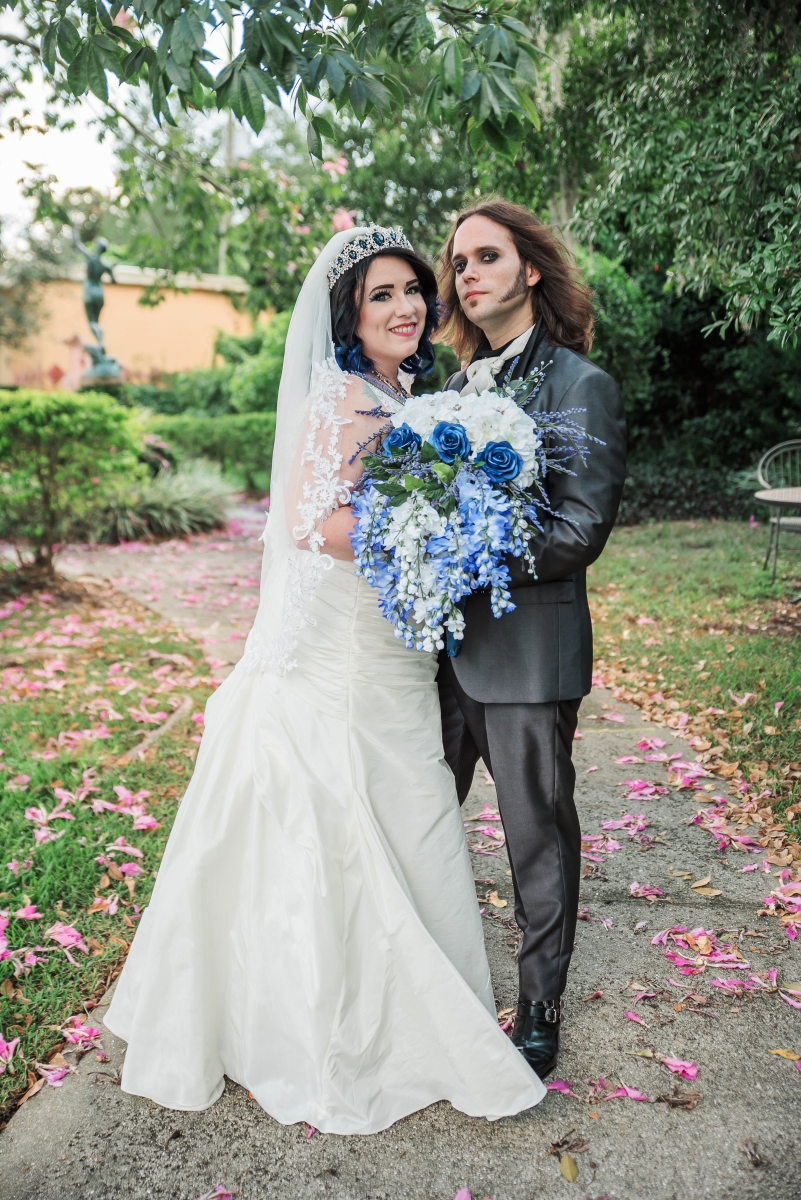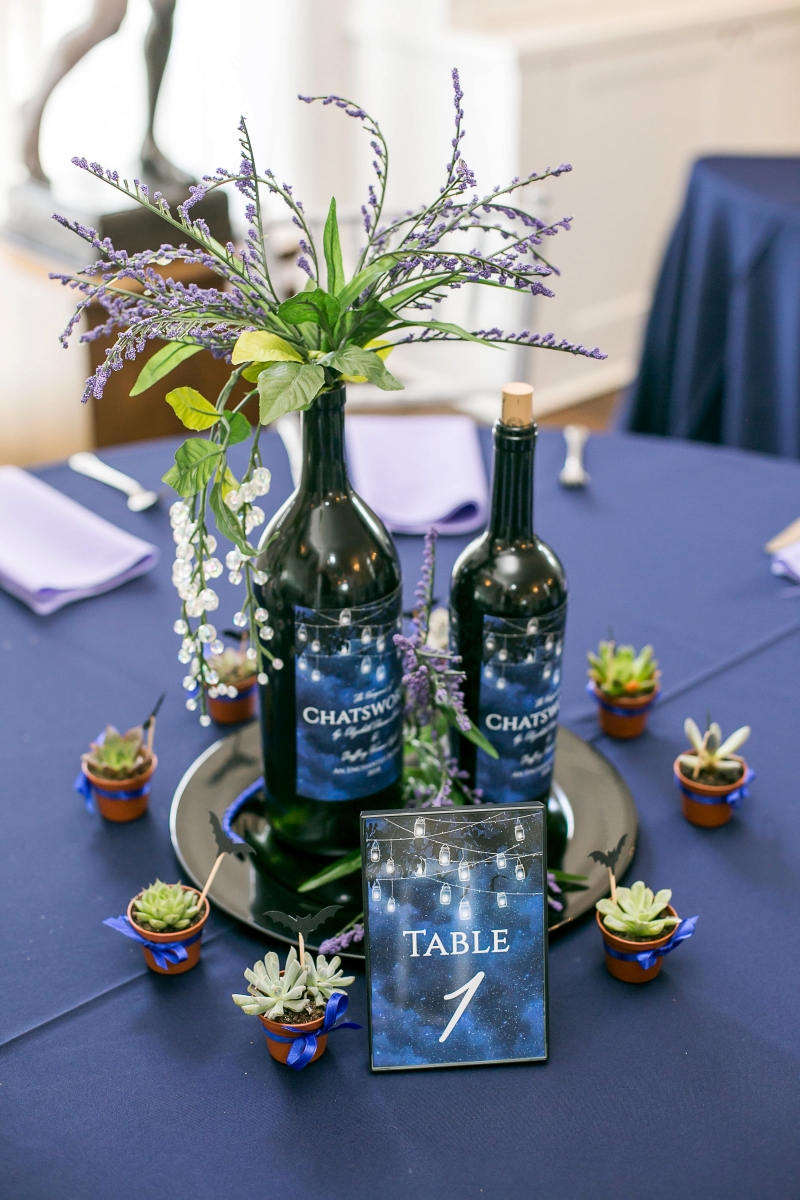 (I just could not help myself and stuck little bats into favors, cards, and invitations, pretty much wherever I could.)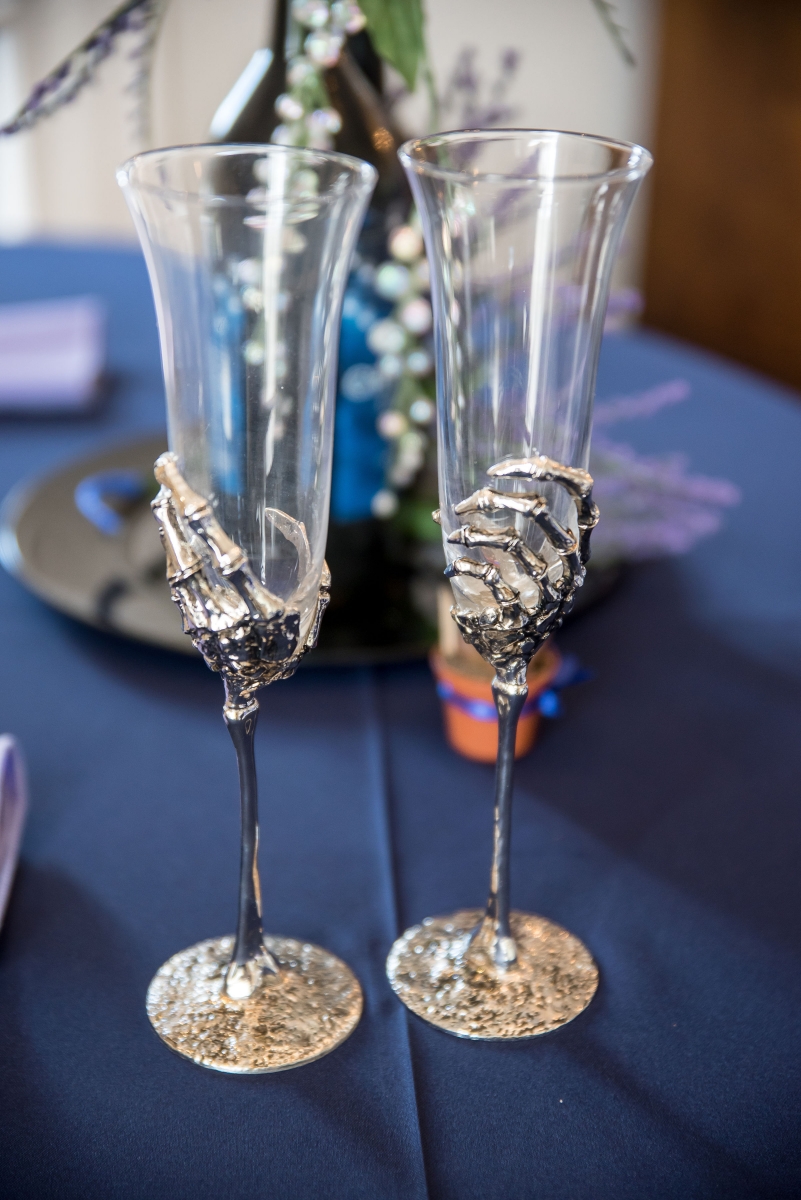 (Our dear friend, Vicki gifted us the perfect set of skeleton champayne flutes to toast the day.)
After the ceremony we went in for cocktail hour and dinner, where our wonderful friends, Jim and Vicki each said a few words for us. The speeches made me laugh and cry. It was a reminder of just how long and deep our friendships run, and how truly grateful we are to have such wonderful friends in our lives. Our families were there to love and support us as well, and there were many fun moments and dances between us.
Our first dance was set to the IAMX song, "Stalker". The first time I heard this song was earlier in the year, when he first released his latest album, "Alive in a New Light". Upon meeting me for the first time, you'll have to wait probably less than 15 mintues or so before I bring up Chris Corner and his project IAMX. I am such a huge, huge fan. His music means everything to me. He is one of my biggest artistic muses. Anyone who knows me even a little bit knows just how wild I am about his music. This song immediately brought tears to my eyes. I just knew it was perfect for us. Don't let the title totally fool you. It may sound a bit dark, but at its core it is a deep and smokey love song, and a marvelous duet with Kat von D. I must have cried a dozen or so times listening to it and I am so glad Geoff felt it was a perfect choice as well.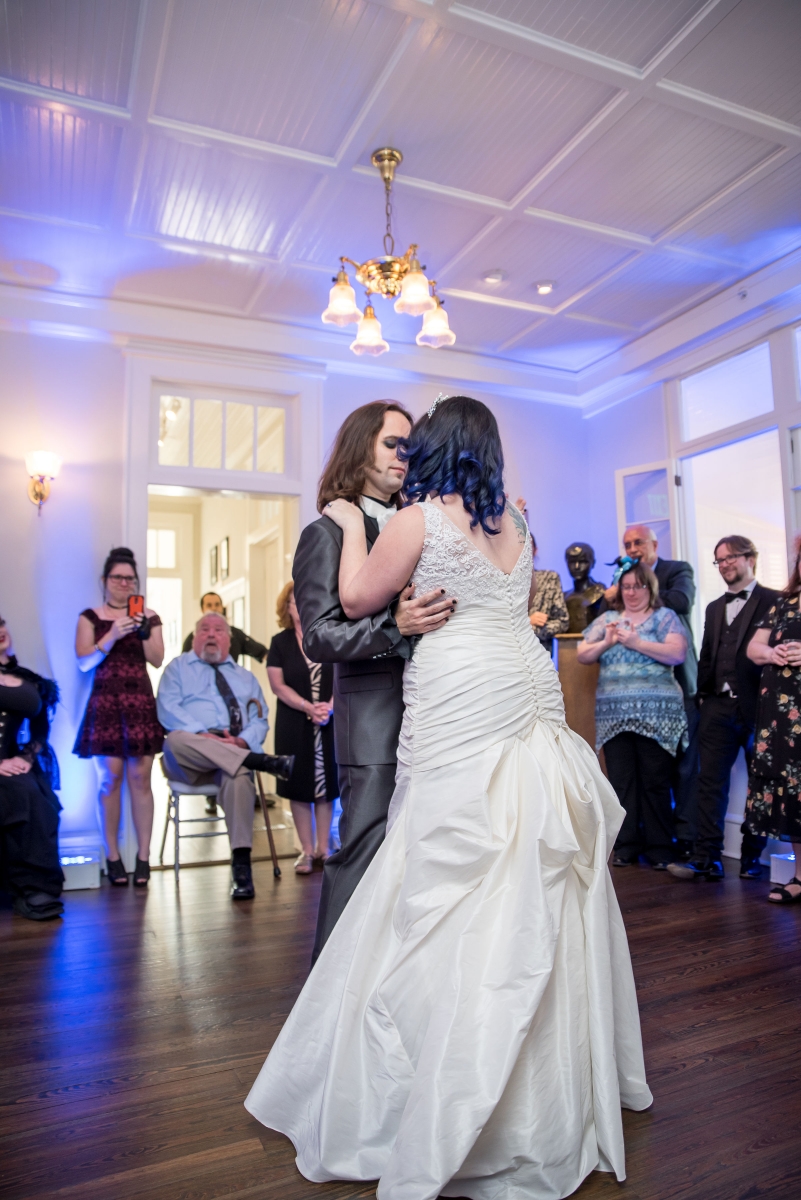 Then there was dancing, drinking, and merry making. Before we knew it, the night was over. They say the wedding day goes by in the blink of an eye for the bride and groom, and that is no lie. Even though everything was wonderful, it felt like 5 minutes had gome by before the night was winding down.
The evening did not go by completly non-art related. We decided to display this engagement present I painted for Geoff. It comes with a bit of a story. Geoff proposed to me on our trip to Paris one year before. We had a lovely French meal, then wondered down to the Pont Neuf. Geoff thought it might make for a magical backdrop for what he wanted to ask. However, things did not go quite a he had planned. There were some roudy teenagers in the park that night, singing, yelling, beating on drums, and in general making a rukus. After a few moments hanging out on the little island park, rats began to emerge. The French teens began laughing and screaming "Ratatouille! Ratatouille!".
I know my mother loves the Pixar movie, so I whipped out my phone and began chasing the little buggers all around the park in order to snag her a photo. It was funny, afterall....well...not for Geoff, who was trying to launch his proposal! Deciding the park was a bust, he lead me back to the bridge of locks and got down on one knee. I accepted, cried, and we had a lovely, initmate moment. As we began to head back to the hotel, he turned to me and said, "I am sorry about the rats. I guess that's not exactly romantic. I replied, "Are you kidding me? That is my favorite part of this story! Let's invite them to the wedding!"
So, when we returned home, I painted him this little guy. The title is "Will You?" and he is holding the ring that Geoff proposed to me with. At least the ring was black!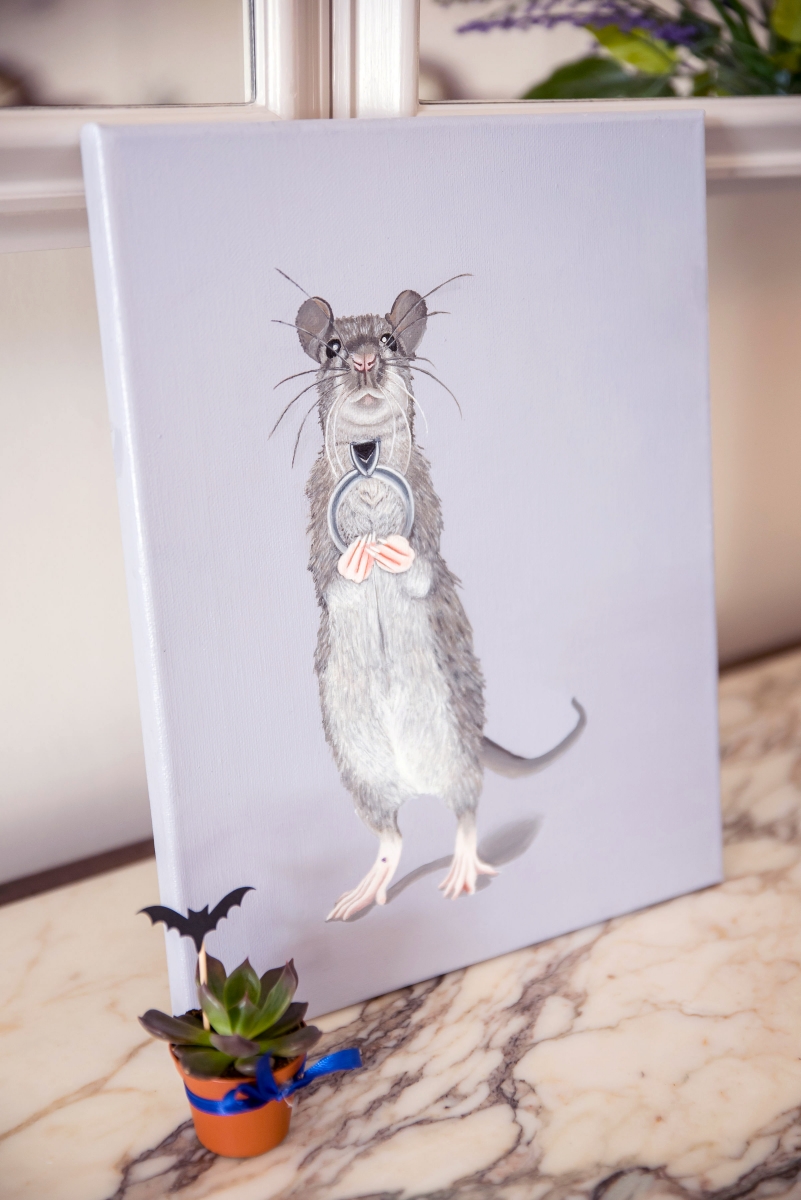 And that, ladies and gentleman, in a nutshell, was our wedding day! Married life so far has been wonderful. Geoff is my best friend, my confidant, my supporter, and my best critic. I am so glad we are together. We only feel closer now that we have tied the knot, and I think that is wonderful.