Spell of Ravensong
Posted by Elizabeth Elean... on June 09, 2017 |
2 Comments
One of my favorite local art shows of the year is City Arts Factory's "Dia de los Muertos/Monster Factory". It takes place in downtown Orlando every October, and the opening is usually kicked off with a big bash. There are food trucks, dancers, vendors, music, and art. It's quite a party! The 2016 show was my third time participating as an artist. I gave myself plenty of time to research and prepare what this year's piece would be. I had done a Dracula piece the following year, and wanted to change things up this time around.
My partner and I had also begun the process of looking for a new home together. That lead to all sorts of exciting talks on decor, colors, styles; the feel of the place and the atmosphere we wanted to create in the new space. While we don't always see eye to eye on design, we both discovered through the process that we had a soft spot for art nouveau. We began looking at paint samples and using Pintrest for design ideas, and the creativity springing up from our home plans began to bleed over into my studio time.
Still feeling culturally nostalgic, and wanting to paint something soft and feminine, it felt a good fit that I do...if not quite an art nouveau piece, at least a strong nod to the period. Since it was a Halloween show afterall, it felt natural that a witch made for good subject matter, and my idea to marry spooky halloween with soft, feminie, curving lines was born.
We had been looking at color palettes like the one below for our home. As I dove back into my old art research from the art nouveau period, I found myself referencing the same palette for the painting. Now, most people that meet me or spend a little time around me assume I love one color and only one color, and that is black! And it's true! I do love my black. Black car, black hair, black nails, lips, boots, jewelry, clothes, you name it. But the truth is I have a wide appreciation for color, it just all depends on the subject and application. I love dusty pinks, and creamy greens. I find jewel tones pleasing to the eye. Coppers and bronzes remind me of my lost autumns up north and my mother and grandmother, so those shades feel comforting and warm. I chose many of those shades to incorporate into the painting.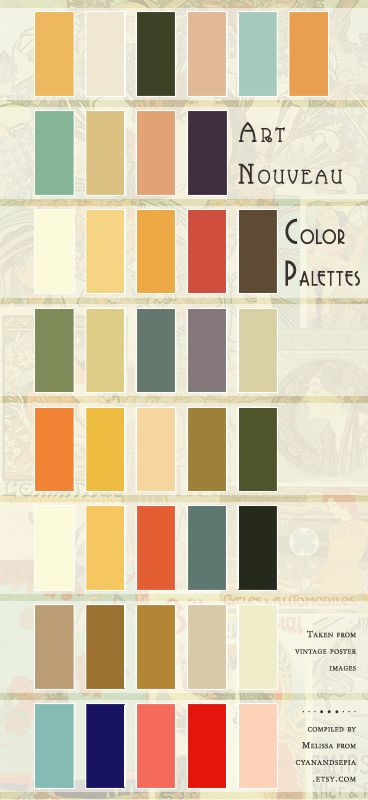 I didn't want to paint a green witch, but I still wanted that super traditional, halloween feel, so I opted instead to use the green as the background color. I knew I wanted a black cat in there, a pumpkin, a broom, all the elements your iconic witch would have. The big purple feathers on each corner of the design are, well, there because I just can't help myself! I love feathers! I included skulls to really bring home the spooky vibe, but kept the foilage and tree branches light, as if she is casting her spell in the woods by moonlight and the viewer can clearly see we are in autumn. I looked at pictures of vintage Halloween decorations I remember hanging in drugstore windows when I was a child in the early 80's, and at hundreds of images of flappers and Ziegfeld girls from the 1920's for inspiration on my witch and her pose. At one point I even had my partner stand in the studio holding a broom to make sure I had the correct hand positions. I am sure he loved that!
The most challening part of the piece was all the black outlining. I made the decision to outline everything early on, and it was completed with the tiniest liner brush one can find on the market. I am obsessed with clean lines in my work.I will sit there as long as it takes to get outlines as smooth and crisp as I possibly can. While I like the outcome, I think in this case my obsession was a hinderance. I was also absolutely gobsmacked when a friend and fellow artist told me that they now make paint liner PENS for such a purpose, after I had finished this monumental task that took countless hours and a steady hand. Well, every mistake is a journey they say!
The finished work is a serene, quiet moment of a witch, in her secret, secluded spot in the woods, with only her cat companion looking on, casting her spell...a spell to summon ravens. Because who doesn't want to see beautiful black birds on Halloween?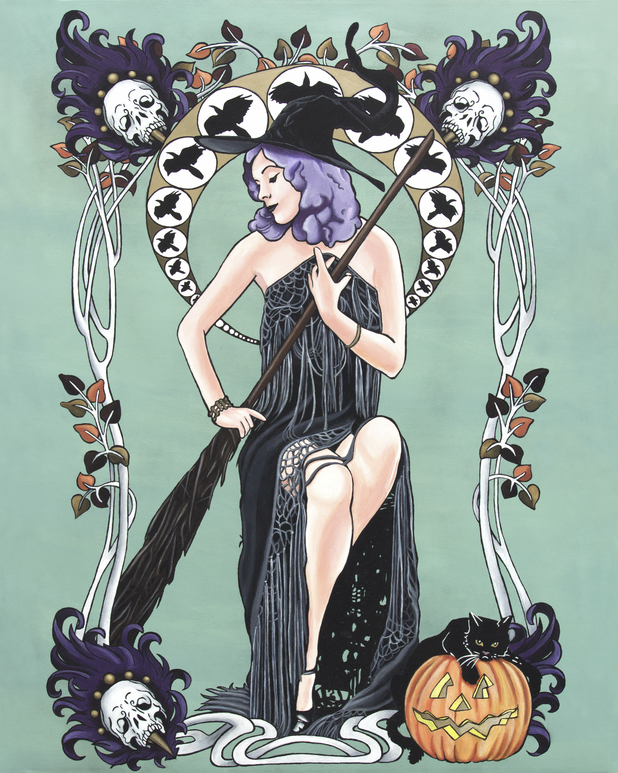 "Spell of Ravensong" is acrylic on canvas and measures 24 by 30 inches. The original is still available, and prints in two sizes are available on this website.