Art Museums in Paris Part 3 of 3
Hello again, friends and followers! I am sorry for the brief blog hiatus. Like for many of you, I am sure, the holidays are hectic! I hope you all had a wonderful close to 2017 and I hope this new year brings you peace and joy.
When last we left one another, I had just finished touring the Lourve, with a little help from the Rick Steves Audio Guide and a lot of determination. Once Geoff and I finished with the museum, we ventured back to our hotel to rest and get cleaned up for dinner. Geoff had made us reservations at Verjus, a "haute cuisine" restuarant. We had a lot of great food in France, but this particular meal was our biggest culinary splurge. We had a six course meal and wine pairing. It was one of the best meals of our lives! We tried everything from steak tartare to lobster salad. We had fresh baked breads and amazing desserts. I truly do not think we shall ever forget the experience.
After dinner, we walked along the Pont Neuf, where Geoff asked me to be his wife. I wish I could articulate the joy that brought to my heart. I have spoken before about just how lucky I feel to have such an amazing partner, someone who is truly my best friend, and someone I can share these amazing adventures with. The fact that he surprised me with a proposal right in the middle of one of these adventures made it all the more special. I cried happy tears, and we ran right back to the hotel so I could call my mother and share the news.
The wonderful proposal did not mean our plans altered, however. We were on the boot camp museum mission, after all! The next day we were back at it, this time to the Musee d'Orsay. This facility absolutely took my breath away. For those not familiar, the museum is housed in a gorgeous Beaux-Arts style railway station, constructed for the Univeral Exhibition of 1900. By 1939, the station could no longer accomodate the larger and more modern trains traveling in the city. It was threatened by tear down and modern expansion, but was spared, and became the world's largest collection of impressionistic and post modern masterpieces in the world by 1986. The main gallery is filled with natural light pouring down from the rounded glass ceiling. A magnificent clock hangs over the main entrance, and there are fun little architectural details to take in as you enjoy the art itself. Even the cafe is a beautiful piece of art!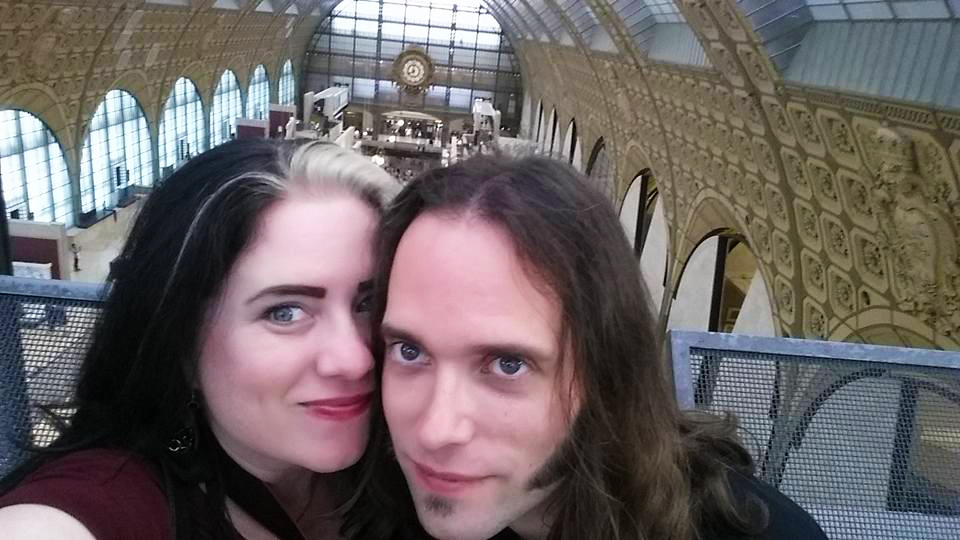 (Geoff and I in the Musee d'Orsay)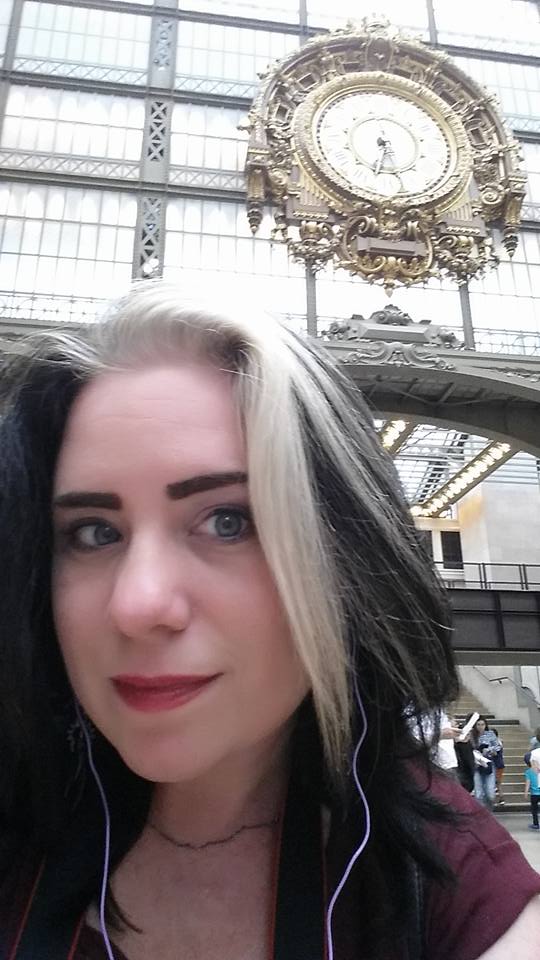 (Magnificent clock in the Musee d'Orsay)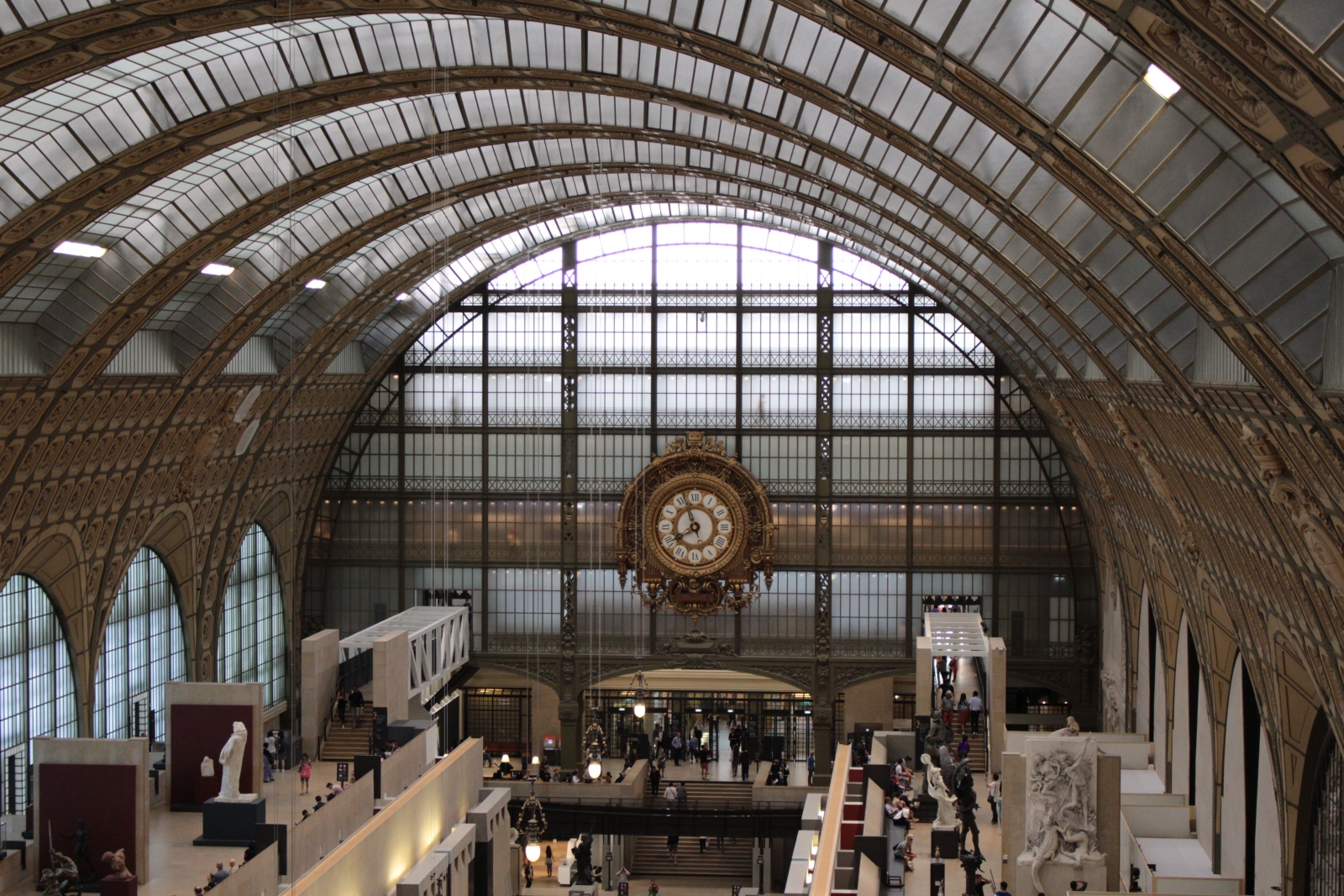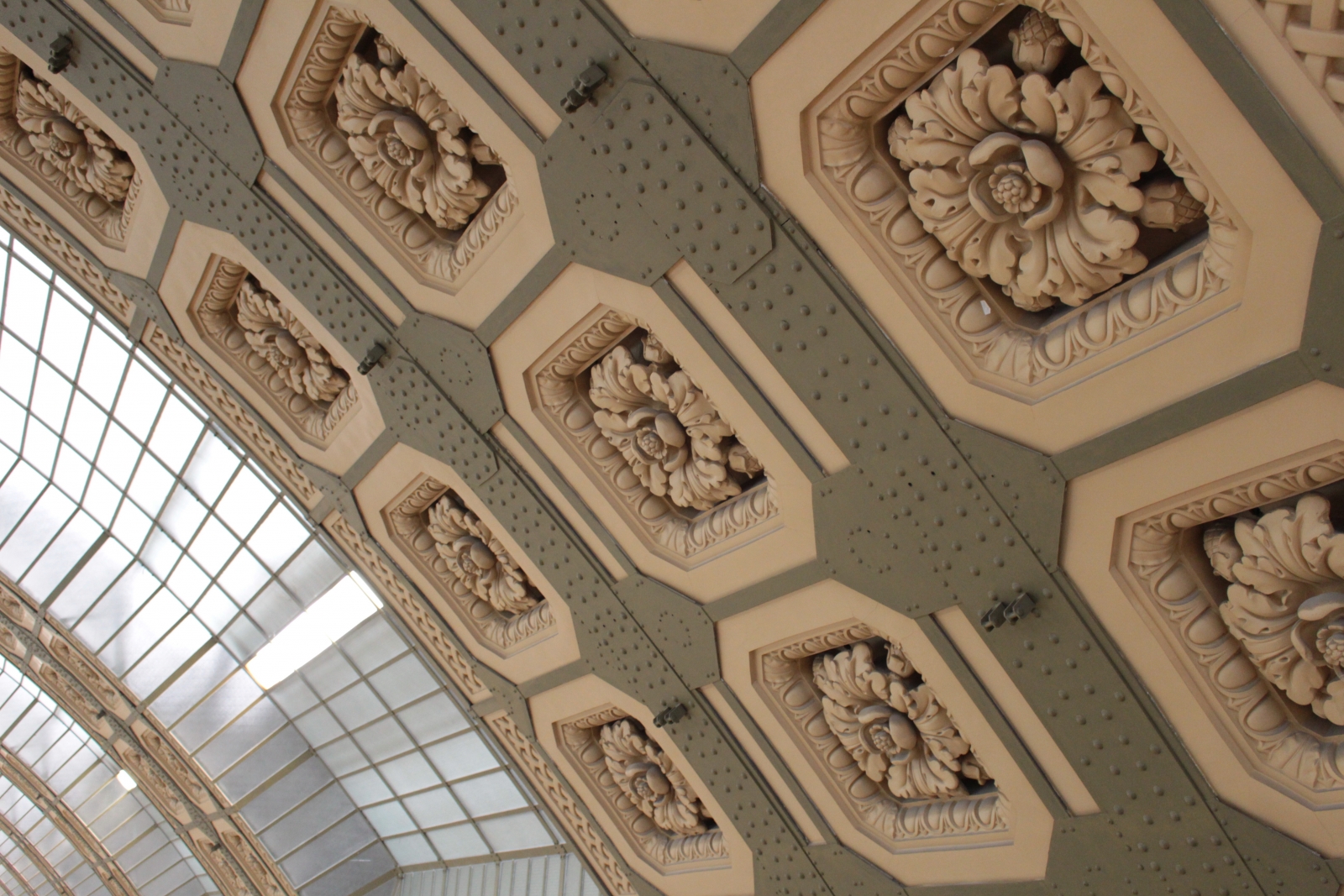 (pretty ceiling details in the Musee d'Orsay)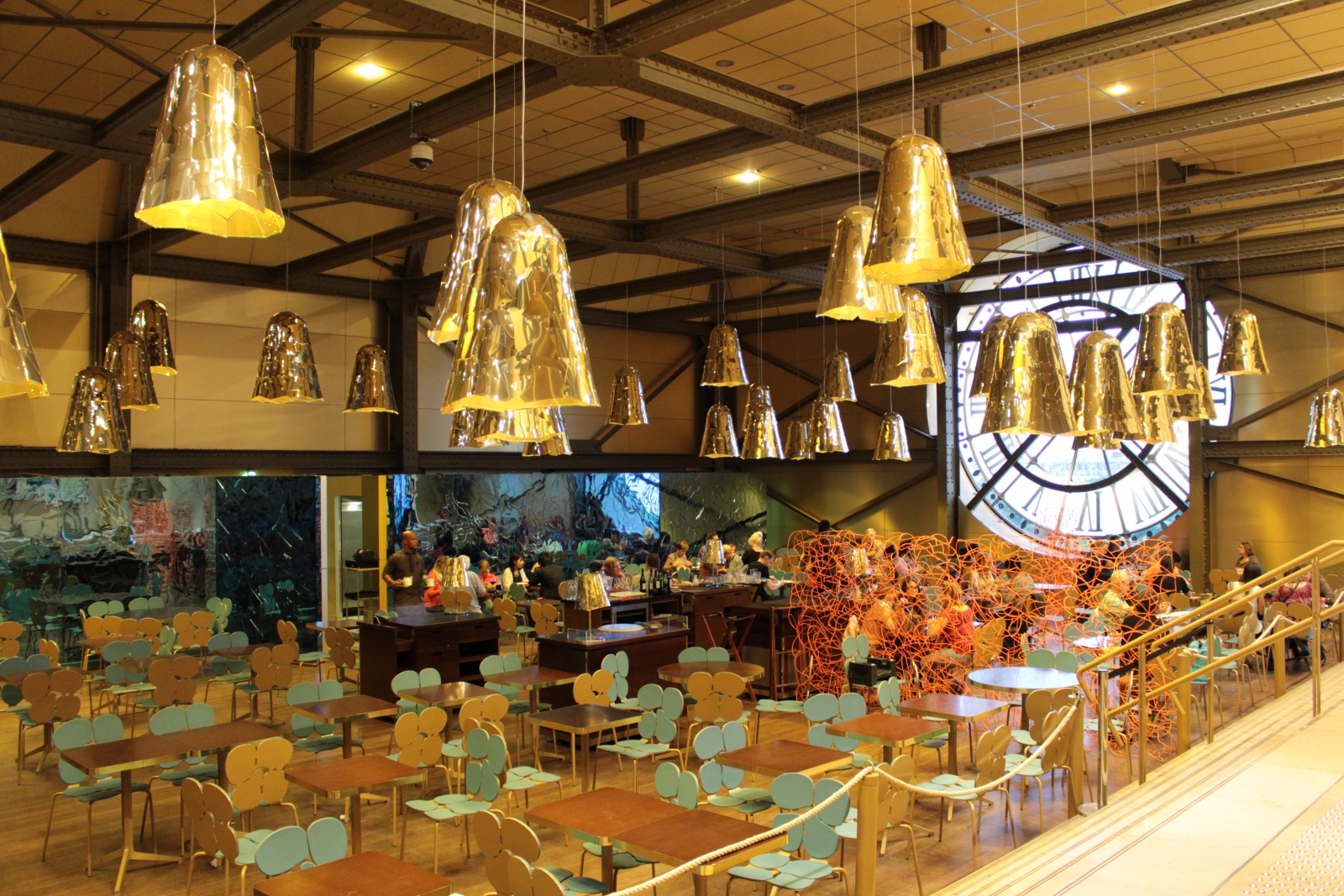 (cafe, Musee d'Orsay)
Once again with a major museum in Paris, there was no way we were going to take in everything the place had to offer in the span of a single day. We did some research beforehand to make sure we had our lists of "must sees" and went in armed with another one of Rick Steves free audio guides.
We began in the neoclassical wing. The theme of our audio guide was describing how the impressionists and post modernists began to feel like the classical style of art was dated, too formal, stuffy, old hat, and that they were interested in trying something new. That is all fair enough, but gazing on these masterpieces of neoclassical art as a history buff made them feel anything but stuffy. These pieces, to me, seem more like the work of....wizardry, surely made by some arcane magic. The blends are so smooth, the colors are so sublime. Everything is so polished, they seem as if not made by human hands. Many of them are also so large scale, filling entire walls. We spent over an hour just studying some of these pieces. Again, there is no possible way for me to share every work, and natural light might be great for viewing in person, but not always for photographing. Therefore, please excuse the flaws in my photos. But they do help me continue to study these works in my spare time, as well as research higher fidelity photos online. Below are some of my favorites: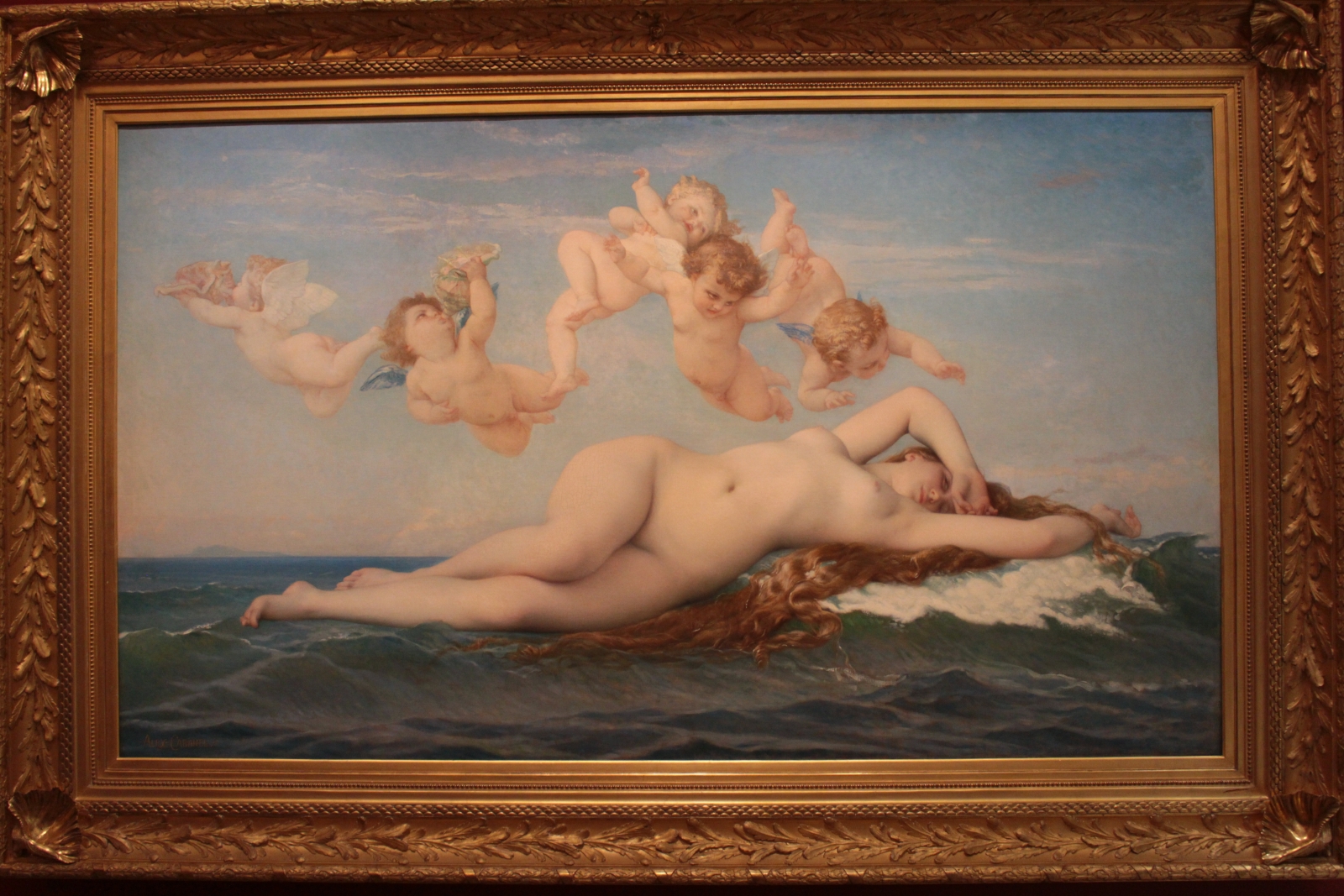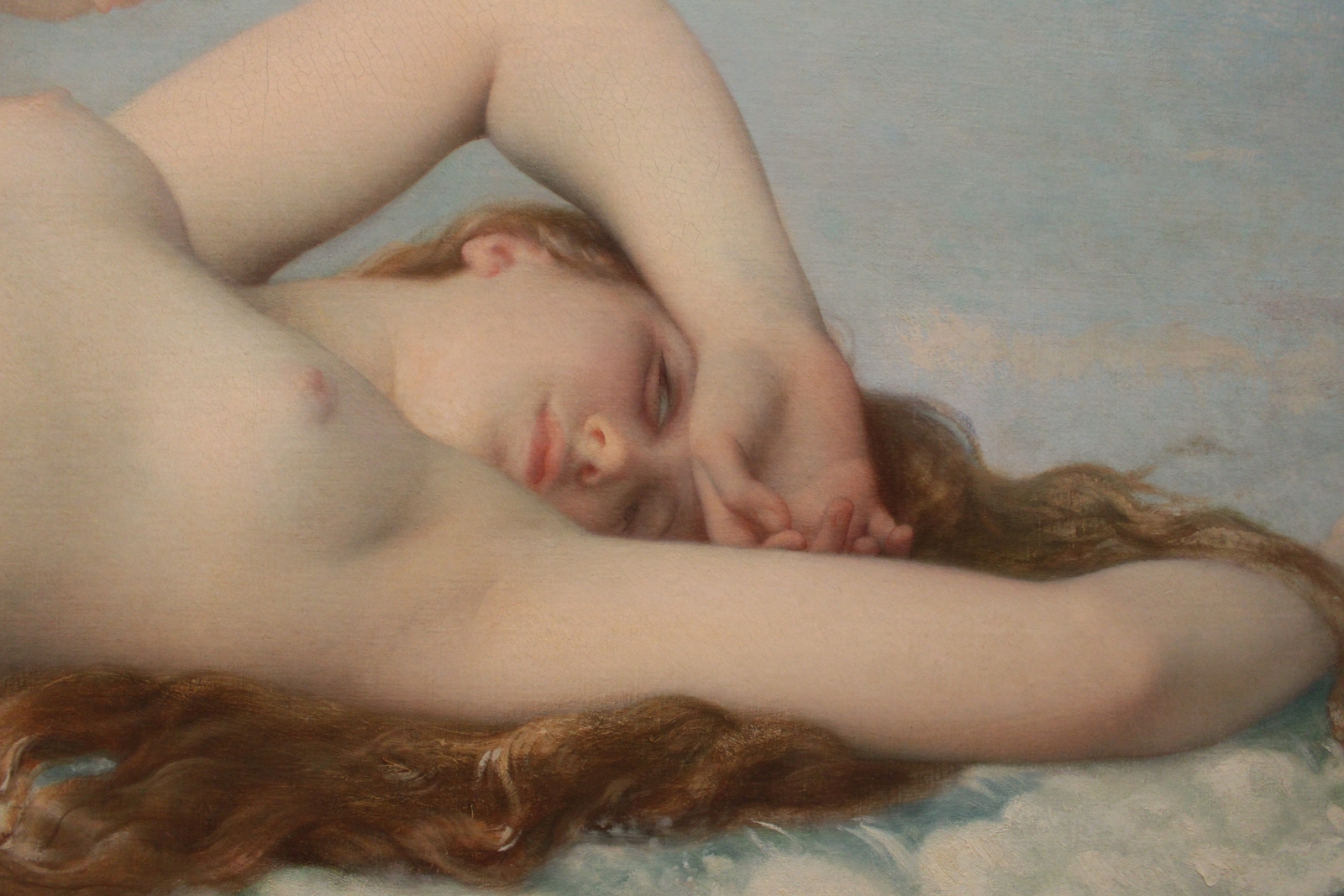 Alexandre Cabanel's "The Birth of Venus" took both of our breaths away. The shading is so smooth, the blends are so soft, and yet the level of detail is amazing. She is soft and beautiful, and fully idealized. I wouldn't mind having her figure ;)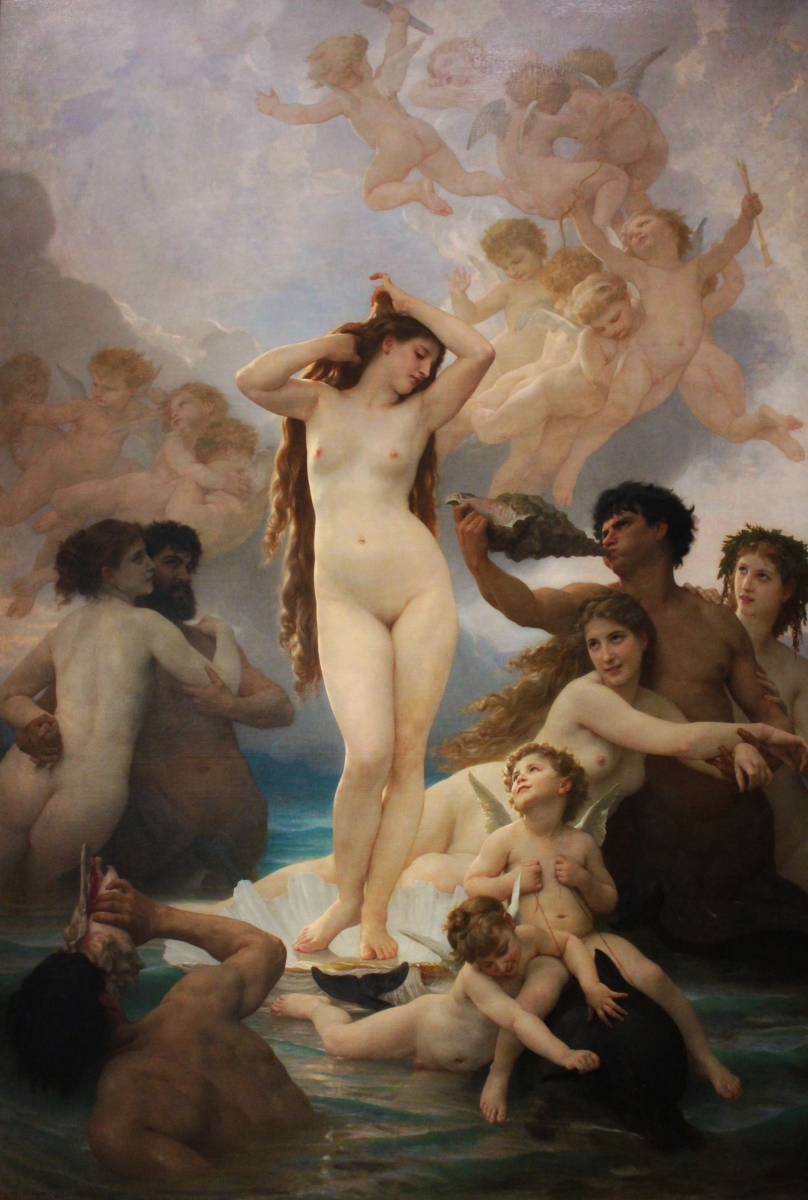 William Bouguereau's "Birth of Venus", this time washing ashore on her shell rather than being birthed in the waves. This painting is considered one of the most famous works of art of the 19th century, and I can completely understand why. At over 9 feet high and 7 feet wide, this piece commands all attention. It was physically challenging to turn away from it. The glow of her golden hair, the delicate and soft shadows blended on her skin, the way the light bounces off the cherub's face in the foreground, all of these things had me in awe.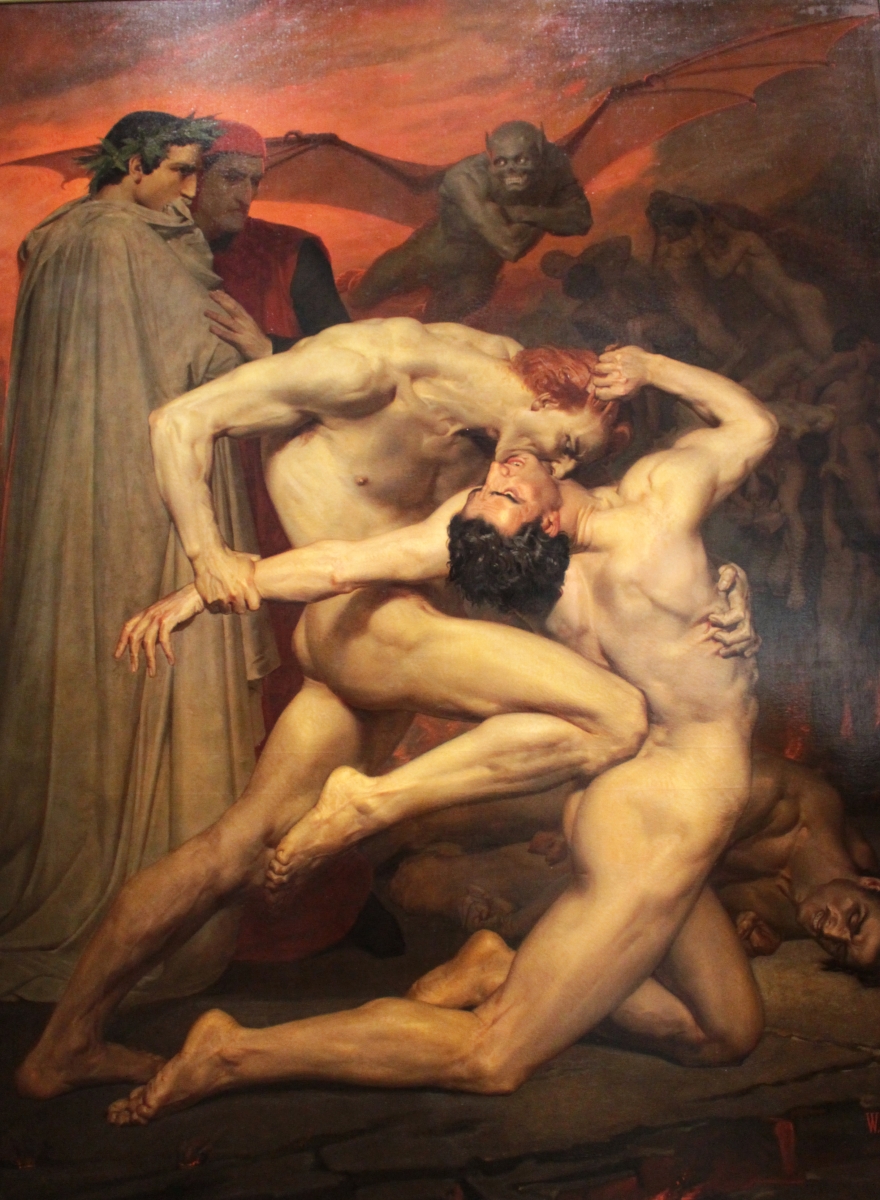 Also by William Bouguereau, "Virgil and Dante". How could I not possibly fall in love with a piece this dark! It's got everything, fire, brimestone, naked men, a demon, the works! In this piece, Virgil is leading Dante through the cirlces of hell, and they come upon this pair in combat. Of course, since the lighter haired man is biting the darker haired man on the neck, it conjured up memories of all those Anne Rice novels I read in my youth. My father was currently reading the Vampire Chornicles, so I purchased a small version of this piece in the gift shop for him afterward.
They say it depended on who you talked to how the public felt about Bouguereau's work. Some considered him the epitome of classical taste and refinement. But some of his art contemporaires hated him, thinking his work was dated and artifictial. On the one hand, I am grateful for the impressionism movement, because that was my gateway into studying fine art. On the other, I am going to say that in some cases, Bouguereau's contemporaries must have been suffering from a severe case of "they hate us 'cause they ain't us" because, I mean, just look at his work. It's magnificent!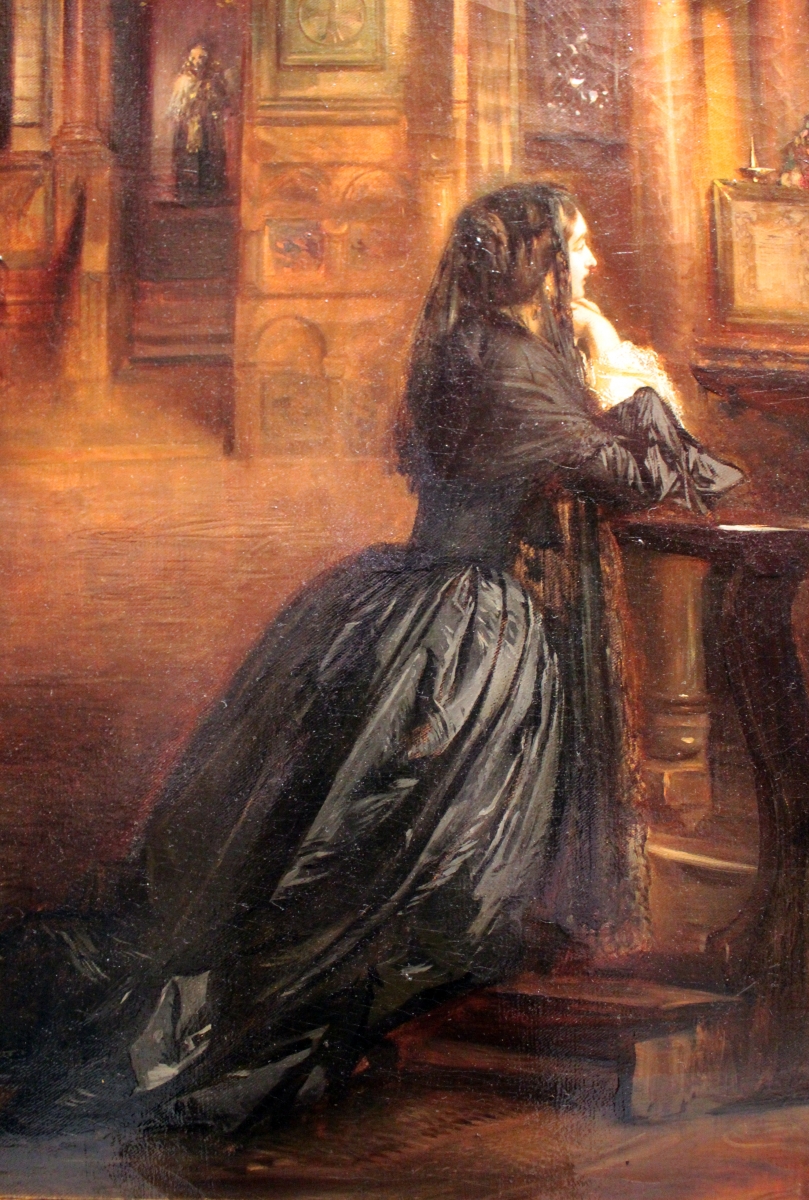 Ernest Meissonier's "Woman Praying in San Marco, Venice". Unfortunately my photo of this piece came out particularly bad. But I was entraced by it in person. One of the things I love to paint are folds in dresses and fabrics. I also appreciate the trick of trying to paint something sheer, like her veil. I've attempted this before and it is quite tricky. So the details in this piece alone kept me entertained for over 20 minutes. I just kept staring at it, hoping to absorb every little trick regarding how Meissonier achieved this transparency and depth.
From here our audio guides wanted to steer us away from the neoclassical and straight on to the impressionists. But, having done some research before our visit, I knew there was one little aside I had to make first. Those close to me know that I am pretty fanatical about all things Oscar Wilde, and so that includes his friends/frienemy/enemy relationship with James Abbot McNeil Whistler. I knew Whistler's most famous work, "Arrangement in Grey and Black No.1", also widely referred to as "Whistler's Mother" was hanging in the museum, and so I just had to go find it.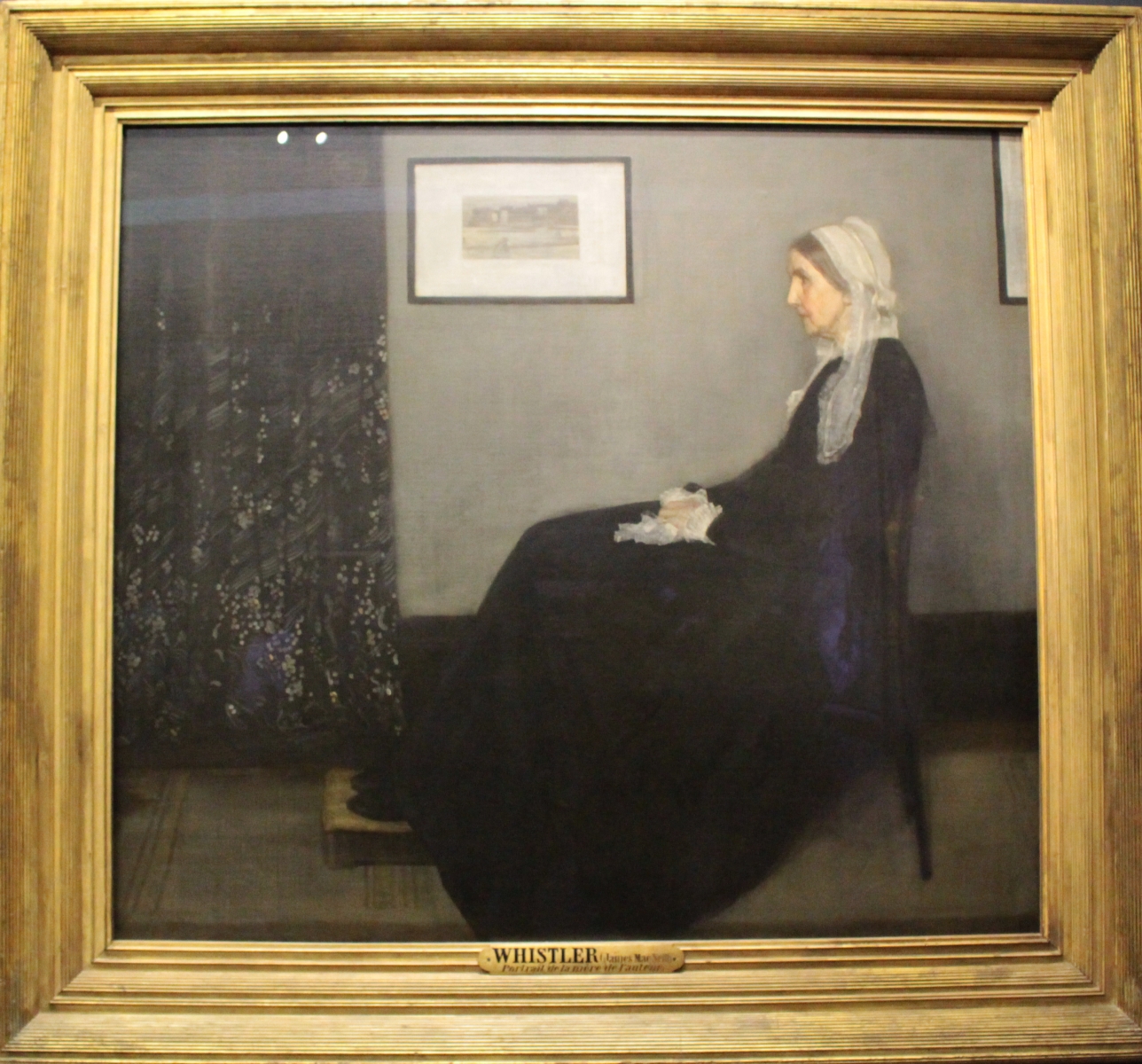 (Boom, sufficiently "Whistled")
Now, I would have thought that after veiwing such deft feats of technical ability in the neoclassical wing, and taking in all the French Romantics in the Lourve the day before, the impressionists would seem simple and sloppy by comparision. But that was not how I felt entering the wing. We spent the next few hours dazzled by the beautiful colors, thick textures, use of light, and airy movement in scores of works by Renoir, Monet, DeGas, and so on. We saw water lillies and bridges, fields and cafes, ballerinas and gardens. Again, it was so much more than I can possibly share here.
A new favorite was a Monet I was not familiar with. His "Madame Louis Joachim Gaudibert" entranced me. Again, I think it was the folds in her dress that pulled me in. In fact, studying the brush strokes, and lighting, and movement of all of these impressionist works up close had a profound effect on me.
But one piece in particular took me by complete surprise. There were a handful of Van Gogh's on display at the d'Orsay. I like Van Gogh. Everybody likes Van Gogh, right? But I never really considered him any type of personal favorite. His work doesn't envoke strong feeling or admiration or just plain awe like some of my favorite artists do. I like Starry Night, but I've never been in love with it, for example. His most famous works are pieces that have been in every art book, on postcards, on postage stamps, and have been viewed by myself and all the rest of the waking world probably a million times a piece. When we approached the room with his most famous self portrait, I thought it would be one of those "stand there a second, nod, snap a phone pic, move on" kind of experiences. But it didn't go down like that.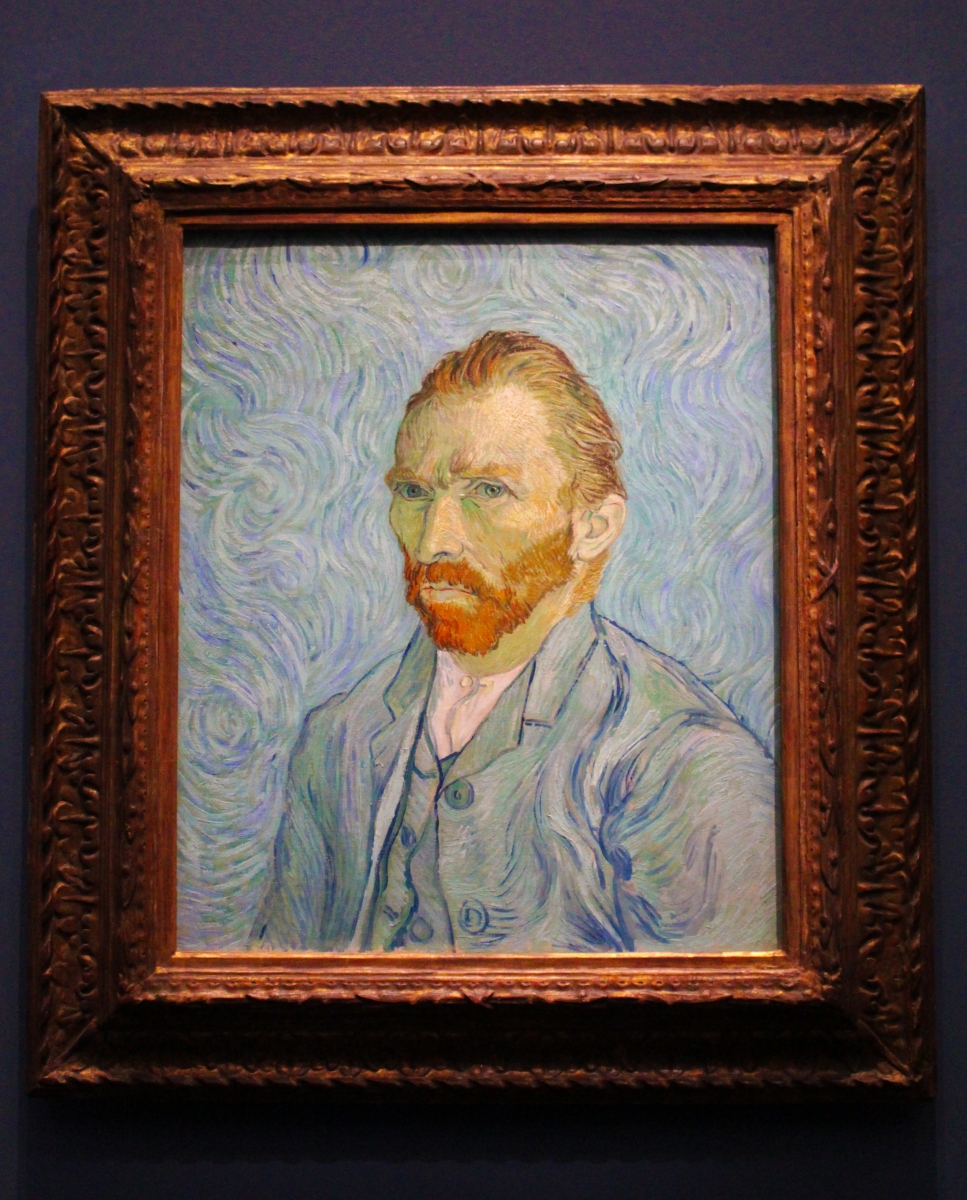 (Vincent Van Gogh, Self Portrait 1889)
This piece blew off the back of my head. I think my brain fell on the floor at one point. Of course, my picture does no justice to how the piece looked in person. The colors were so vivid, the blues were so blue. The contrast between those beautiful blues and greens with the auburns in his beard was just, well, just gorgeous. The texture on this painting almost had a life of its own. The piece practically glowed on the wall. It was just so....striking. I was shocked how much of an effect this work had on me. It made me almost want to abandon my trip, head home, open every single pot of paint I own, and play all day long with them. I think I uttered the phrase "no way" at least a handful of times while looking at it.
We finished the visit with a quick trip through the Art Nouveau wing, another style I love, and at the very last few minutes before closing, we hunted down Gustave Courbet's "The Origin of the World". I will decidely not be posting a photo of this piece here. It might be a little too "ooh la la" for some viewers. But Geoff and I quite fancy it, so if you are interested in this work, you are free to search for it in Google. Just be careful where you conduct this search. It might be considered by some to be quite....NSFW.
That brought our visit to the d'Orsay to a close. Because of such a dramatic contrast in styles, this visit had a more profound effect on me than any other art museum I've visited. Seeing the neoclassical side by side with impressionism, post modernism, and the graphic styles of art nouveau really expanded my desire to be more versatile in my own art. It got me interested in all kinds of color harmony and design approaches. Perhaps most importantly, it completely surprised me by showing me that my favorite piece in the museum was one I'd seen a million times before but never stopped to appreciate.
Useful links: